If you were in the Oregon Convention Center on Sunday, June 23rd around 3:00 PM, it would have been very hard to miss the large crowd standing around the ASEF booth! People gathered for their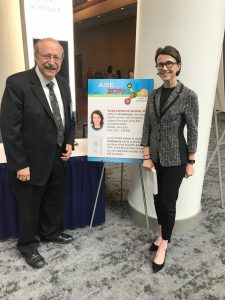 chance to meet New York Times Bestselling author and inaugural Gardin Lecturer, Dr. Barbara Natterson-Horowitz. Following her presentation during the Echo Technology at the Cutting Edge of Knowledge session, Dr. Natterson-Horowitz graciously hosted a signing event of her book, Zoobiquity, The Astonishing Connection Between Human and Animal Health.
Copies of the book were available for pre-order and a limited number were available for purchase on site. The line to purchase a copy was very long, drawing the attention of people walking by, until there was a large crowd! Ultimately, an additional 35 attendees walked away with a signed copy of Zoobiquity, totaling 55 copies sold in all.
Included in the group was Julius Gardin, MD, FASE, creator of the Gardin Lecture, and it was hard to tell which of them was more excited! The book signing was a huge hit and ASEF would like to thank Dr. Natterson-Horowitz and everyone who purchased a copy of her book. This event resulted in $1,375 in donations to the ASE Foundation. 100% of the $25 purchase price was treated as a U.S. tax deductible donation to the ASE Foundation.