Book Signing Event at ASE 2019 – Sunday, June 23rd, 2:45 – 3:30PM, ASEF Booth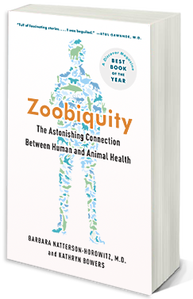 Headed to Portland, OR this June for the annual Scientific Sessions? If so, you wont want to miss out on this experience! The ASE Foundation is proud to host New York Times Bestselling author, Barbara Natterson-Horowitz, MD for a signing event of her book, Zoobiquity: The Astonishing Connection Between Human and Animal Health.
Dr. Natterson-Horowitz is this year's inaugural Gardin Lecturer and is presenting during the Echo Technology at the Cutting Edge of Knowledge session on Sunday, June 23rd. After her lecture she will be at the ASEF Booth from 2:45 – 3:30 PM, signing copies of her best-selling book. The only way to ensure a book will be waiting for you in Portland is to pre-order your copy by Tuesday, May 28th on ASE Marketplace. 100% of the $25 purchase is treated as a tax-deductible donation to the ASE Foundation. Only a very limited number of copies will be available for purchase on site.