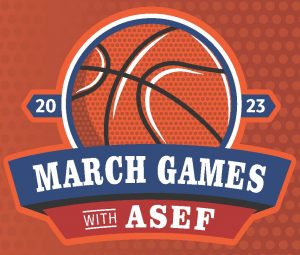 In the spirit of the Big Tourney in March and Women's History Month, the ASE Foundation hosted a competition between ASE communities to see who could raise the most money for the 2023 Annual Appeal.
The competition featured four ASE member groups and ran from March 1 – April 2. Thanks to the fundraising efforts of these groups and support from donors, we received $2,800!
Join us in congratulating the winning group, the Interventional Echocardiography (IE) Council Steering Committee! As the winners of the competition, the IE Council Steering Committee has been crowned one of ASEF's Biggest Hearts. As such, they will be announced during the Awards Plenary session at ASE's Annual Scientific Sessions in National Harbor, MD this June. A photo of the group will be published in JASE, the Journal of the American Society of Echocardiography and they will also be featured in an article in an upcoming issue of ASE's Echo Magazine.
Let's hear it for all of the competitors!
Interventional Echocardiography (IE) Council Steering Committee – $1,370
Cardiovascular Sonography Council Steering Committee – $630
Circulation & Vascular Ultrasound Council Steering Committee – $450
Emerging Echo Enthusiast (E3) Specialty Interest Group – $350