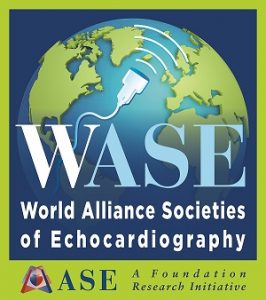 Do normal chamber quantification values vary across countries, geographical regions, and cultures? That is the question ASE set out to answer, with the help of ASE International Alliance Partners and friends. The World Alliance Societies of Echocardiography (WASE) Normal Values Study organized study centers in six continents, including the US, Canada, Mexico, Brazil, Argentina, Australia, Nigeria, India, China, Japan, Korea, Philippines, Iran, Italy, and the United Kingdom.
Principal Investigators for the overall study are Roberto M. Lang, MD, FASE and Federico M. Asch, MD, FASE. "We believe the information derived from this effort will be of benefit for echocardiography worldwide, not only in describing each population but in comparing them to each other," said Dr. Lang.
The WASE study, which was launched at ASE 2016 during a meeting with the Investigators for each study center, has entailed the acquisition of complete 2D and 3D echocardiograms in 100 individuals of both genders and across a wide range of ages in each of 15 countries. All echoes were analyzed in collaboration with MedStar Health Research Institute and the University of Chicago. The clinical usefulness of echocardiography is based on the detection of abnormalities, which relies on the accurate definition of "normality" across different countries or races. Currently, available echocardiographic "reference values" that define "normality" are mostly based on cross-sectional observations of Ca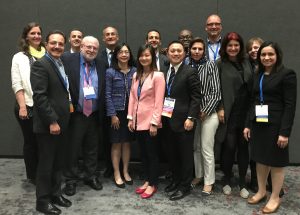 ucasians from the US and Europe.
In addition to Drs. Lang and Asch, the current Steering Committee for this study is comprised of Jose Banchs, MD, FASE; Vera Rigolin, MD, FASE; James D. Thomas, MD, FASE; and Neil J. Weissman, MD, FASE.  The WASE Fellow for the Normal Values Study has been Dr. Tatsuya Miyoshi of Osaka, Japan.
Regional PIs included Ricardo Ronderos, MD, FASE, Argentina; Gregory Scalia, MD, FASE, Australia; Ana Clara Tude Rodrigues, MD, Brazil; Wendy Tsang, MD, Canada; Mei Zhang, PhD, China; Vivekanandan Amtha, MD, DM, and Ravi R. Kasliwal, MD, DM, FASE, India; Anita Sadeghpour, MD, FASE, Iran; Eduardo Bossone, MD, FASE, Rodolfo Citro, MD, and Denisa Muraru, MD, FASE, Italy; Masao Daimon, MD, and Masaaki Takeuchi, MD, PhD, FASE, Japan; Pedro Gutierrez-Fajardo, MD, PhD, FASE, Mexico; Kofo O. Ogunyankin, MD, FASE, Nigeria; Edwin S. Tucay, MD, FASE, Philippines; Seung Woo Park, MD, South Korea; Mark J. Monaghan, PhD, United Kingdom; Karima Addetia, MD, FASE, and James Kirkpatrick, MD, FASE, United States.
Study enrollment has been completed as of January 15, 2019 with a total of 2,300 subjects. Data is being analyzed and presentations/manuscripts are underway based on the data analysis (see list-to-date below).
The WASE Normal Values Study has been being funded by the American Society of Echocardiography Foundation and its donors, and with generous in-kind support from sponsors TOMTEC Imaging Systems, Medidata, Medstar Health Research Institute, and University of Chicago.
Photo:  WASE investigators from around the world gathered at ASE 2019 in Portland.
Touch Cardio Interview with Federico Asch re WASE Normal Values Study, ESC 2019, Paris, France
PRESS RELEASE:  What is Normal?  ASE and Its International Partners Explore New Standardization Across the Globe
---
WASE Normal Values Study Presentations and Publications to Date
Journal of the American Society of Echocardiography
Similarities and Differences in Left Ventricular Size and Function among Races and Nationalities: Results of the World Alliance Societies of Echocardiography Normal Values Study, Asch, Federico M. et al., Journal of the American Society of Echocardiography, Volume 32, Issue 11, 1396-1406.e2.
Need for a Global Definition of Normative Echo Values—Rationale and Design of the World Alliance of Societies of Echocardiography Normal Values Study (WASE), Asch, Federico M. et al., Journal of the American Society of Echocardiography, Volume 32, Issue 1, 157 – 162.e2
Echo Hawaii – January 2018
Poster: Rationale and Design of the World Alliance Societies of Echocardiography (WASE) Normal Values Study
ASE 2018 – June 2018, Nashville, Tennessee
Oral Presentation: World Alliance of Societies of Echocardiography (WASE) Normal Values Study, Federico M. Asch, MD, FASE
Poster: Rationale and Design of the World Alliance Societies of Echocardiography (WASE) Normal Values Study
Poster: 2D Echocardiographic Measurements Feasibility for Left and Right Ventricular Size and Function in the World Alliance Societies of Echocardiography (WASE) Normal Values Study
Poster: Applicability of Current Reference Values in Different Countries: Early Report from the World Alliance Societies of Echocardiography (WASE) Normal Values Study
ASE 2019 – June 2019, Portland, Oregon
Oral Presentation: ASE Foundation Research Lecture: WASE Study, Federico M. Asch, MD, FASE
Poster: World-wide Comparison of Echocardiographic Normal Values of Left Ventricular Size and Function in Healthy Adults: Results from the World Alliance Societies of Echocardiography (WASE) Normal Values Study
Moderated Poster: Echocardiographic Diastolic Function by Age Decades: Results from the World Alliance Societies of Echocardiography (WASE) Normal Values Study
Poster: Applicability of Current Reference Values in Different Countries: Results from the World Alliance Societies of Echocardiography (WASE) Normal Values Study
Poster: Are There Differences in 3D LV and RV Size and Function Parameters Between Populations Around the World? First Report from the World Alliance Societies of Echocardiography (WASE) Normal Values Study
Poster: Worldwide Normal Values for Left and Right Ventricular Size and Function Using 3D Echocardiography: First Report from the World Alliance Societies of Echocardiography (WASE) Normal Values Study
Poster: Application of Machine Learning to Two-Dimensional Echocardiographic Chamber Dimension and Function Measurements
Poster: Computer Identification of Standard Echocardiographic Views Using a Convolutional Neural Network
ESC 2019 – September 2019, Paris, France
Late Breaking Science: Similarities and Differences in Cardiac Chamber Size and Function Among Races and Nationalities. Results of the World Alliance Societies of Echocardiography (WASE) Normal Values Study, Federico M. Asch, MD, FASE and Roberto M. Lang, MD, FASE
Touch Cardio Interview with Federico Asch re WASE Normal Values Study, ESC 2019, Paris, France
PRESS RELEASE:  WASE Normal Values Study Presented as Late-Breaking Science at European Society of Cardiology Congress in Paris
Philippine Society of Echocardiography Annual Convention – September 2019, Manila, Philippines
Presentation: HB Calleja Professorial Lecture, "WASE Normal Values Study on Left Ventricular Size and Function Among Races and Nationalities: The Philippine Perspective," delivered by Dr. Edwin Tucay
AHA 2019 – November 2019, Philadelphia, Pennsylvania
Accepted Poster:  The Impact Of Age And Gender On Left Ventricular Stroke Volume In Healthy Adults From The World Alliance Societies Of Echocardiography (WASE) Normal Values Study
Accepted Poster: Right Ventricular Size And Function In Healthy Adults: Geographical Differences From The World Alliance Societies Of Echocardiography (WASE) Normal Values Study
EuroEcho 2019 – December 2019, Vienna, Austria
Poster: Comparison of left ventricular stroke volume in healthy adults among regions around the world: results from the World Alliance Societies of Echocardiography (WASE) Normal Values Study
Moderated Poster: Left ventricular stroke volume differences among echocardiographic methods in healthy adults from the World Alliance Societies of Echocardiography (WASE) Normal Values Study