The ASE Foundation's global health outreach events program is designed to bring humanitarian adult and pediatric cardiac care to developing countries, teaching local clinicians and providing direct services to those in need. These efforts not only impact the lives and well-being of countless patients in underserved populations, but they also serve to spotlight the versatility and adaptability of cardiovascular ultrasound while advancing practice standards to uniform treatment and improve patient care worldwide.
Hanoi, Vietnam
August 2015
About Our Program │ Daily Reports │ Reflections from Team Hanoi
Learn more about Team Hanoi in Echo Magazine (Vol 4 Issue 1)
---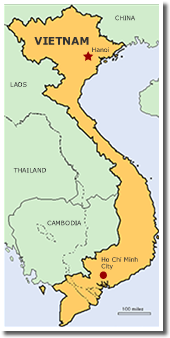 ABOUT OUR PROGRAM
ASEF volunteers have returned from Northern Vietnam in Fall 2015 where they conducted a health outreach event. We're proud to announce our team members for this event, and thank them for their support. In addition to lending their time and professional skills, each volunteer is funding his/her own travel to Vietnam.
Team Leaders:
Jose Banchs, MD, FASE, The University of Texas MD Anderson Cancer Center, Houston, TX
James N. Kirkpatrick, MD, FASE, University of Pennsylvania, Philadelphia, PA
Dr. Banchs and Dr. Kirkpatrick previously led a team of ASE members to Vietnam on a self-organized medical mission to Hue Central Hospital in April 2013. The lessons they learned then have been instrumental in planning the Foundation's upcoming event.
Industry Partner:
A special thank you goes to our industry partner Mindray for providing the ultrasound equipment our team will be using, as well as in-country technical support. Mindray is also donating a leave behind ultrasound system, a crucial gift that will continue to affect practice far beyond our team's limited time on the ground.

Vietnam National Heart Institute, Bach Mai Hospital Team Leaders:
Prof. Do Doan Loi, MD, PhD
Nguyen Thi Thu Hoai, MD, PhD
Tuan Le Thanh, MD
Team Members:
David Adams, RCS, RDCS, FASE, Duke University Medical Center, Durham, NC
Rebecca Hahn, MD, FASE, Columbia University, New York, NY
Jill Inafuku, BS, RDMS, FASE, Tripler Army Medical Center, Kaneohe, HI
Thanh Kirkpatrick, MD, MPH, Translator, Esperanza Health Center, Philadelphia, PA
Tu Nguyen, Translator, Houston, TX
Rachel Quang, RDCS, Midcoast Hospital, Brunswick, ME
Liza Sanchez, RCS, FASE, The University of Texas MD Anderson Cancer Center, Houston, TX
William Song, General Manager, Mindray Medical Vietnam, Ho Chi Minh City, Vietnam
Nova Sprague, BS, RDCS, The University of Texas MD Anderson Cancer Center, Houston, TX
Kin Wen, Mindray clinical support, Shenzhen, People's Republic of China
ASE Staff Representative:
Andrea M. Van Hoever, Vice President of Research
Description:
ASEF volunteers will be providing clinical care for patients in rural village outreaches, as well as participating in an exchange of educational lectures and training with local clinicians at the Vietnam National Heart Institute, Bach Mai Hospital.
Outreach events to rural villages are part of the standard practice of the major teaching hospitals in Vietnam. Rheumatic heart disease remains endemic, yet echocardiography, the primary way to detect and characterize early (leading to preventive measures) and advanced stage (leading to mitral valve interventions), is only available at centers in major cities. One of this event's core components will be to teach local clinicians how to use laptop size echo platforms in resource poor settings.
One of the other key components will be to establish the use of focused cardiac ultrasound in resource poor areas of Vietnam. Training in the use of focused cardiac ultrasound to screen for important cardiovascular disorders will be provided for non-cardiologist clinicians, which will allow for effective triage of the use of full echocardiography.
DAILY REPORTS
ASEF in Vietnam: Days 1 and 2 – By Andrea Van Hoever, ASE Staff
Xin chào from Vietnam!
ASE Foundation volunteers are currently in northern Vietnam participating in the Foundation's second global health outreach events of 2015. After months of planning, our team is finally in country and has spent the last two days working closely with Prof. Dr. Do Doan Loi, Director of the Echo Lab and Deputy Head, Cardiology; Dr. Hoai Nguyen (Ms.), Vice-Head of the Echo Lab; and Dr. Thanh Le Tuan at the Vietnam National Heart Institute/Bach Mai Hospital. We are also honored to have spent time with Prof. Pham Gia Khai, president of the Vietnam Heart Association.
Our team also includes Mr. William Song, General Manager of Mindray Medical in Vietnam, and Mr. Kin Wen, Regional Clinical Manager. Mindray generously provided the six M7 ultrasound machines our team is using, and also sponsored a day-long educational symposium our team held at the hospital.
In Vietnam, physicians do the patient scanning; they don't have sonographers like the US hospital system. The 75 cardiologists at Bach Mai see 500 outpatients and 450 inpatients daily, performing 70,000 echocardiograms a year. The hospital also has a nursing school that graduates 500 nurses each year.
Over the coming days the team will continue training efforts at the hospital and participate in a village outreach for elderly patients in rural Vietnam. The weather here is unseasonably warm; Sunday was 40 degrees Celsius (104 Fahrenheit). Our team is hot, but happy to be here. The enthusiasm for echo is contagious, and we're excited to see what the next few days will bring!
ASEF team leaders Dr. Jose Banchs and Dr. Jim Kirkpatrick present the Vietnam National Heart Institute/Bach Mai Hospital with a gift of ASE's complete guidelines poster set. L to R: Dr. Banchs, Dr. Hoai Nguyen, Prof. Dr. Do Doan Loi, Dr. Kirkpatrick, and Dr. Thanh Le Tuan.
As of the following morning, all of the ASE posters had already been framed and were lining the halls of the echo lab!
Scanning demonstrations: L to R: sonographers Nova Sprague, Liza Sanchez, Jill Inafuku, and Rachel Quang demonstrate how to optimize images for 90 trainees.
The professors: Prof. Pham Gia Khai and Dr. Rebecca Hahn. Prof. Khai is responsible for first bringing echocardiography to Vietnam in the early 1970s.
Professor Loi welcomes over 130 physicians from Bach Mai and its sister provincial hospitals to the Vietnam-America Cardiac Ultrasound Symposium.
Dr. Jose Banchs, Dr. Jim Kirkpatrick, Dr. Rebecca Hahn, and David Adams all presented lectures. The team covered topics ranging from "Basic Echo Knobology" to "Imaging for Structural Heart Disease Interventions."
The ASEF team with Bach Mai Hospital staff and Mindray after the conclusion of the educational symposium. The Bach Mai staff took turns throughout the day translating our team's lectures into Vietnamese.
Images from around Hanoi, Vietnam.

ASEF in Vietnam: Day 3 – Mindray Donates an M7 Portable Cardiac Ultrasound System to the Vietnam National Heart Institute/Bach Mai Hospital
In addition to providing the six M7 systems our team used while in Vietnam, Mindray also donated a system to the Vietnam National Heart Institute. Below, Mr. William Song, General Manager of Mindray Medical in Vietnam, presents Prof. Dr. Do Doan Loi with the hospital's new M7 system. This is a crucial gift that will further the week's training and clinical efforts long after our team leaves Ha Noi.
ASEF in Vietnam: Day 3 – Training at Bach Mai Hospital
In Vietnam, local health stations provide the primary access point for healthcare outside major urban cities. For patients who need more extensive care, travel to the central hospital can often be prohibitively expensive. Nurses manage the day-today operations at the clinics, so today our team worked closely with a group of 8 nurses to train them in a very basic image acquisition. Teaching them to recognize abnormal versus normal in a broad sense will help them triage patients who need to come to the central hospital. While the day's focus was on working with the 8 nurses, another 45 clinicians were also with us observing.
After a morning of lectures and discussion, we spent the afternoon with the nurses practicing image acquisition:
| | |
| --- | --- |
| | |
| | |
| | |
| | While the rest of the team were scanning with the nurses in the afternoon, Drs. Hahn, Banchs and Kirkpatrick helped out in the echo lab. |
ASEF in Vietnam: Day 4 – Village Outreach
Today we traveled to Dong Anh, outside Hanoi, to the Xuan Cahn Commune Health Station and scanned 279 elderly patients. Each patient was first scanned by one of the nurses we trained the day before, who assessed normal versus abnormal. Our team members then followed with their own scan and assessment.
| | |
| --- | --- |
| | Team Hanoi ready to start the day! |
| | |
| --- | --- |
| | Tu (red and black stripe shirt) helps prepare the patient report forms. Each patient received a physical copy of their report to take away; we scanned electronic copies with our phones for our records. |
Patients arrived at the clinic by motorbike, bicycle, and on foot:
Tarps were set up to protect everyone from the sun:
Assessing patients:
Smiles at the end of a long day:
REFLECTIONS FROM TEAM HANOI
"I have also paused multiple times over the past weeks every time something has reminded me of the event. I find myself wanting to go back – finding my reflections to be comforting, stable and familiar."
James Kirkpatrick, MD, FASE
"I volunteered for the ASEF Vietnam mission to try to help others perhaps less fortunate than myself, but sometime during the trip, it became crystal clear that I was receiving more than I was able to give. This mission gave me a greater sense of community, friendship and accomplishment than anything I have done in my career. I will carry that feeling of happiness and satisfaction with me forever."
Rebecca Hahn, MD, FASE
"Missions like these really touch so many people in different ways, for some it may be curiosity, others an opportunity to teach and help, or simply a philanthropic gesture. I, as a young Vietnamese refugee who fled after the war, wanted a better Vietnam in all things possible, but particularly in closing the gap in its healthcare disparities. I hope that this chapter of Team Hanoi doesn't end here, but draws more volunteers and financial support to ensure that countries like Vietnam progress and are able to share resources and technology to help their patients."
Tu Nguyen
"What we did together was meaningful and will live with me forever. Thank you all for taking me in to the fold and reminding me that echo is about people, not just hearts."
Jill Inafuku, BS, RDMS, FASE
"I came to Vietnam to help, but I was helped myself. I saw that this county that I had fled as a toddler is rebuilding and that there is hope for a brighter future. I was floored by overwhelming generosity and hospitality from a nation coming out of a period of isolation and restrictions. It was incredible to be a recipient of this. Team Hanoi worked hard and our work will leave a lasting impression."
Thanh Kirkpatrick, MD, MPH
"I volunteered for ASEF because I wanted to help my community. During the event, I gained more knowledge than I expected. I also gained leadership skills from teaching new physicians and rural nurses [how to] scan patients. I remember in the rural community, after I scanned some patients, some of them smiled and kept thanking us for what we do. Looking at the smile on their face, that moment was priceless and I was fulfilled."
Rachel Quang, RDCS
"I felt re-energized. I felt optimistic. I felt compassionate. I felt peace. In other words I was, am, in happiness. I fell in love. In love with the world we have, the world we can create in. May this be the beginning of a long friendship and partnership to share and help others as we go along."
Jose Banchs, MD, FASE
"The Foundation's humanitarian events are about more than just providing training to developing countries or patient care to those in need. We are building a global community, full of connected, inspired, and dedicated professionals. It is a sense of common purpose, unexpected acts of kindness, and bonded friendships cemented by hard work. You can see it growing through the meals that are shared, through the smiles and laughter that spontaneously erupt across barriers of language or culture, barriers that ultimately end up just being a perception and not a reality. These programs will continue to make a difference long after our teams come back home. And that is a beautiful thing."
Andrea Van Hoever