IMAGES FROM THE HEART:
Touching Lives, Bridging Cultures
4th Annual Curated Photo Exhibit
by the American Society of Echocardiography Foundation
ACCEPTING ENTRIES FEBRUARY 1 – MARCH 31, 2019
In recent years, we have been moved and inspired by photographs taken by ASE members while they were traveling the world to participate in medically-related humanitarian events. As ASE members, there is no doubt that you excel at taking images of the heart. Once again, we would like to give you the opportunity to share the images you've taken from the heart. Perhaps you took a special photo of a child you met along the way, the chaos of traffic in India, a night market in China, daily life in Hanoi, or a new group of friends in Mexico. We invite you to share these heartfelt memories (and tell us what they mean to you) for "Images from the Heart," a special photo exhibit to be held during ASE 2019 in Portland, Oregon, June 21-25, 2019.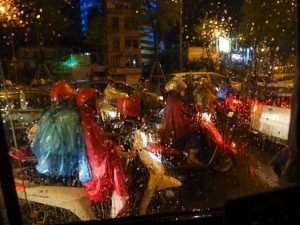 Theme: Photographs taken while the photographer was participating in humanitarian or training events that were medical in nature. The photographs themselves need not be medically themed, but may capture faces of people met along the way, landscapes, cultural observations, etc. If you do submit a photograph of a patient examination, we ask that you be respectful in protecting the privacy and dignity of the patient.
Photo right:  "Rush Hour/Rain – Hanoi" by Barry Canaday, Hanoi, Vietnam
Entry Rules:
The ASEF photo exhibit will be open to entries by all members of the American Society of Echocardiography, regardless of whether the medical humanitarian event was sponsored by ASEF or another non-profit/NGO organization. Non-members who participated in an ASEF-sponsored humanitarian event may also submit entries.
The photo entries will be accepted online February 1 – March 31, 2019.
Photos and background materials should be sent to rprice@asecho.org.  Please send one photograph per email, along with the accompanying descriptive information, to avoid confusion about which description goes with which photograph.
Photographers may submit up to four entries.
All images must have been photographed no earlier than January 2012.
Categories include: (1) People/Faces; (2) Places/Nature/Animals; (3) Culture
There is no entry fee, but for the selected photos, photographers are responsible for sending an 11"x14" print, and also encouraged (optional) to make the selected photos available for purchase, as a donation to ASEF.
Basic photo processing such as cropping, exposure, contrast, color balance and adjustment, saturation, sharpening and dust spotting is allowed. Altering photos by adding or removing objects, backgrounds or skies, or combining two or more photos with different elements, adding colors or textures not in the original capture, and other major alterations that transform the image into something significantly different than the original capture are not allowed.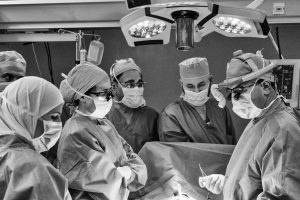 Since your photo(s) will be compared against other submissions, we recommend the submission of high resolution images (300 dpi recommended), to maximize their clarity and appeal.
Photo right:  "Deliberation" by Timothy Cordes, Amman, Jordan
Please name your photographs in the following way:  your first initial/last name/underline/number.  For example, if Bharat Patel submits four entries, his photographs will be named bpatel_1.jpg, bpatel_2.jpg, etc.  He would send each photo in a separate email.
The top 14 entries, as determined by an external curator, will be matted and displayed at a photo exhibit during ASE 2019 in Portland. All other qualifying entries will be displayed electronically during ASE's Scientific Sessions in Portland. You do not need to be present at the ASE 2019 meeting to participate.
Entrants will be notified by May 1, 2019 if their entries are accepted. For the 14 entries selected for the photo display, it will be the responsibility of the entrant to mail an 11"x14" copy of the photograph for receipt no later than May 31.
All entries should include the following information:
Title of photograph
Name of photographer
Type of camera or phone used to capture the image
Category
Location/Name/Dates of the Event
Event Sponsor
Background on the subject/what it means to you (100 words or less)
This exhibit was developed in 2016 to give visibility to the good works of our members, but it has also become a revenue source for the Foundation through the photo sales. Give Us Your Best Shot!
Example of photo entry with text from the 2018 exhibit: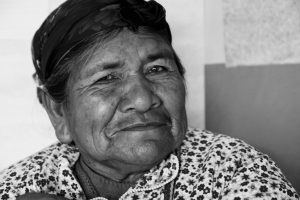 Title:  Women's Leadership
Photographer:  Federico M. Asch, MD, FASE
Camera/Phone:  Camera – Canon 70D
Category:  People/Faces
Location:  Tartagal, Salta Province, Argentina
Event:  ASEF Humanitarian Event with Argentine Federation of Cardiology (FAC), to identify and treat cardiovascular disease within the indigenous communities in northern Argentina/Bolivia.
Dates of Event:  August 10-14, 2015
Background: This woman's face reflects wisdom and determination. Many leaders in the indigenous communities are women. Their energy and commitment to gain respect for the culture and life in their communities are incredible. The success of our humanitarian mission was absolutely dependent on the relationship based on trust and respect that ASE and FAC leaders established with the leaders of the indigenous communities. It was working WITH them from the time of the mission's conception that made it all possible.