ASE Foundation funding supports the dissemination and translation of the Society's practice guidelines and patient care protocols to the global community. Funding in this initiative works to disseminate both English and translated guidelines and educational materials to help facilitate adoption of these quality measures by specialists worldwide.
ASE Guidelines and Standards
ASE Guideline Translations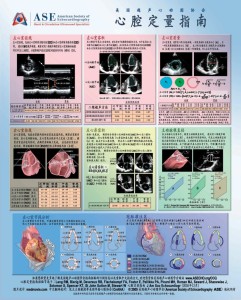 Guideline translations are available in the following languages:
Chinese, French, Georgian, Japanese, Persian, Portuguese, Spanish, and Vietnamese
Thanks to YOUR support, ASEF is also able to:
Develop translated guidelines into educational products, such as this

Chinese Translation of the illustrated version of Recommendations for Chamber Quantification (JASE, December 2005). 

Provide free copies of ASE Guidelines posters in the June 2020 and October 2021 print issues of JASE
An extensive network of volunteers and partner organizations assists the Foundation in bringing these resources to practitioners across the globe. In this way, the ASE Foundation is working to standardize treatment and improve the quality of patient care worldwide.