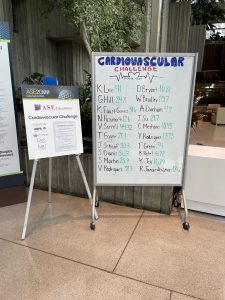 The Foundation was very excited to host its Cardiovascular Challenge IN PERSON this year during ASE's 33rd Annual Scientific Sessions in Seattle, WA.
Sponsored by AGFA HealthCare, CIVCO Medical Solutions, DiA Imaging Analysis, and the Intersocietal Accreditation Commission (IAC), the challenge tracked miles exercised between Friday, June 10 – Monday, June 13. Participants were able to run, walk, swim, bike – any activity that could convert to miles was accepted.
20 attendees participated in the challenge and exercised a grand total of 423 miles! Taking 1st place with 44.32 miles was Vincent Sorrell, MD, FASE, FACP, ASIM, FACC, FCMR. In 2nd was Katherine Lee, BS who exercised 41 miles, and 3rd place went to Veronika Rodriguez, RDCS, FASE with 38.3 miles! Thank you to everyone who got in the competitive spirit!
Thank you to our sponsors!