The ASE Foundation's 2017 global health outreach events are supported by donor contributions to the Annual Appeal and a grant from the Edwards Lifesciences Foundation Every Heartbeat Matters program.
---
CHINA 2017
Yinchuan • Guyuan • Xi'an
September 17-23, 2017
Team Leaders:
Cynthia C. Taub, MD, FASE – Montefiore Medical Center, New York, New York, USA
Liwen Liu, MD – Xijing Hospital, Xi'an, China  
Medical Team:
Yung-Wei Chi, DO – UC Davis Medical Center, Sacramento, CA; Frederick C. Cobey, MD, MPH, FASE – Tufts University Medical Center, Boston, MA; Craig E. Fleishman, MD, FASE – Arnold Palmer Hospital for Children, Orlando, FL; Yuchi Han, MD, MMSc, FASE – Hospital of the University of Pennsylvania, Philadelphia, PA; Lanqi Hua, BS, RDCS, FASE – Massachusetts General Hospital, Boston, MA; Carlene McClanahan, RDCS – Massachusetts General Hospital, Boston, MA; James Thomas, MD, FASE –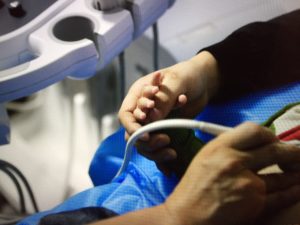 Northwestern University Medical Center; Yan Wang, RDCS, FASE – The Children's Hospital of Philadelphia, Philadelphia, PA; Yu Wang, RDCS – University of Washington Medical Center, Seattle, WA; Jian Zhang – Duke University Medical Center, Durham, NC, USA.  Staff liaison:  Rhonda Price
Institutional Partners:
♥ Xijing Hospital, Xi'an
♥ General Hospital of Ningxia Medical University, Yinchuan
---
A team of 11 ASE Foundation volunteers returned from China in late September, following a meaningful training and patient outreach event in that country.  Yinchuan and Guyuan cities, located in Ningxia Province, and Xi'an, in the neighboring Shaanxi Province, were the destinations for the 2017 event.  Two days of lectures in Yi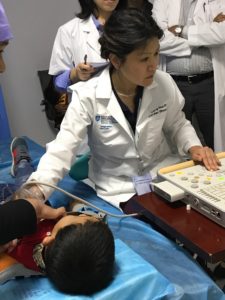 nchuan and Xi'an, and two days of free clinics in Yinchuan and Guyuan produced some impressive results.
Patient Outreach: During the free clinics, the team scanned 97 patients.  Each patient had been pre-screened by CT surgeons and the majority had cardiac abnormalities, including complex congenital heart diseases.
Lectures:  Between the two one-day lectures in Yinchuan and Xi'an, we had 500 on-site attendees, many of whom traveled thousands of miles to have this face-to-face experience.  In addition, 5,000 people live-streamed the lectures.  Each on-site attendee received a USB drive loaded with ASE guideline documents in English and Chinese.  Chinese and Chinese-American teams have translated more than 40 of ASE's guideline documents.  Two translated ASE guideline posters – the mitral regurgitation and aortic regurgitation posters from the recent Valvular Regurgitation guideline document (Zoghbi et al) – were also popular giveaways for attendees.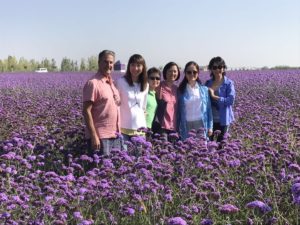 Location:  While Yinchuan and Guyuan are very large cities by American standards, their locations are remote and they are often overlooked by visiting groups such as the ASEF team in favor of cities that are easier to reach.  As a first visit by all members of the volunteer team, we enjoyed "discovering" this part of China.  This new landscape treated us to stunning sunsets and sunrises (sunrises courtesy of jet lag!), a 3D glass bridge over the Yellow River, a vast field of lavender flowers, and treats that only the desert can produce, such as camel rides and sand sledding.  And at the end of our journey, Xi'an welcomed us back like an old friend.
---
Presentations
The US-based team was joined by colleagues in China to make robust educational presentations to 500 on-site attendees and 5000+ online participants.  The lectures were followed by lively audience participation based on questions from the presentations.
---
Places
The natural beauty of Ningxia Province took us by surprise.  Enjoy the sites we experienced:
---
Just For Fun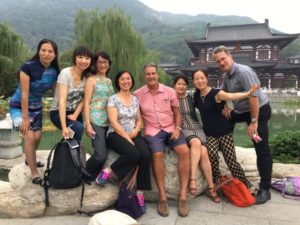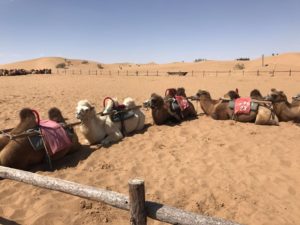 ---
The expected long-term, residual impact of this specific event is a deepening relationship with a potential long-term partner in China, advanced training for attendees in China, improved patient care in rural areas, cultural and educational exchange, and a unique volunteer opportunity for ASE members.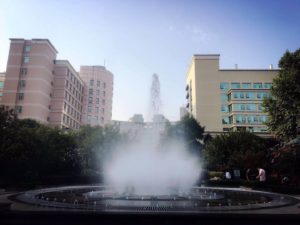 The ASE Foundation's global health outreach events program is designed to bring humanitarian adult and pediatric cardiac care to developing countries, teaching local clinicians and providing direct services to those in need. These efforts not only impact the lives and well-being of countless patients in underserved populations, but they also serve to spotlight the versatility and adaptability of cardiovascular ultrasound while advancing practice standards to uniform treatment and improve patient care worldwide.
While this page is being updated, read about our 2016 event in Xi'an, Ansai, and Yan'an, China.
---