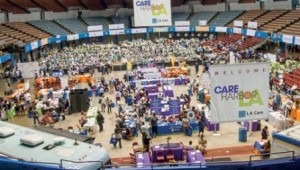 Although it's a year into healthcare reform, millions are still without access to care, particularly specialty care. The Care Harbor healthcare clinic provides free medical, dental and vision care to the uninsured, underinsured and underserved in LA County, along with follow-up care and prevention resources. Our involvement in this year's clinic, which was held September 11-14, 2014 at the Los Angeles Sports Arena, was the ASE Foundation's first U.S.-based global health outreach event, and allowed us to bring expert cardiologists and cardiovascular sonographers to a population in need of quality diagnostic cardiac care.
Through its first four clinics, Care Harbor/LA has provided more than 48,000 free medical, dental and vision services. This year's clinic saw up to 1,000 patients each day. Over the course of four days, nine cardiovascular sonographers, eight physicians, and numerous volunteer medical staff performed cardiology consults on over 130 patients, 56 of whom were then referred for a comprehensive echocardiogram. All patients were then connected to local area medical providers for continuing care as needed.
ASEF Team Leaders
Tracy Lawrence, MD, FASE – USC Keck School of Medicine, Los Angeles, CA
Peg Knoll, RDCS, RCS, FASE – University of California-Irvine Health, Irvine, CA
ASEF Team Members
Birjees Ali-Rizwi, BS, RDCS – UCLA Health, Culver City, CA
Cesar Aranguri, MD – Rancho Los Amigos National Rehabilitation Center, Downey, CA
Kimberly Ayers, RDCS – Loma Linda University Medical Center, Loma Linda, CA
Heidi Barnard – Hitachi Aloka, Chicago, IL
Teri Blum, RDCS, RVS, FASE – St. Joseph's Medical Center, Lodi, CA
Edmond Lee, MD – Sutter Community Hospitals, Sacramento, CA
Lynette Mendoza, MBA, RDCS, FASE – UC Davis Medical Center, Folsom, CA
Nisha Mirani, MBA, RDCS – USC Keck Medical Center, Los Angeles, CA
Carol Mortier, RDCS, RVT, FASE – Venice, CA
Kim-Lien Nguyen, MD – UCLA Medical Center, Los Angeles, CA
Radha Sarma, MBBS, FASE – Western University Medical Center, Pasadena, CA
Helga Van Herle, MD, MS – USC Keck Medical Center, Los Angeles, CA
Andrea M. Van Hoever – ASEF Staff, Morrisville, NC
Gabe Vorobiof, MD, FASE – UCLA Medical Center, Los Angeles, CA
Charles Williams – Hitachi Aloka, Los Angeles, CA
Tammy Witke, RDCS – Orange County Heart Institute, Anaheim, CA
Eric Yang, MD – UCLA Medical Center, Los Angeles, CA
Donna Yap, RDCS, RVT – Sharp Grossmont Hospital, San Diego, CA
Partners
Thank you to Hitachi Aloka for donating the equipment our volunteers used during the clinic and for your staff's support onsite!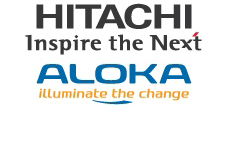 Highlights
| | |
| --- | --- |
| | ASEF team leaders Peg Knoll and Dr. Tracy Lawrence with Dr. Natalie Nevins, Care Harbor's Medical Director. |
|   |  The Echo Area was divided into 4 private rooms. |
|   |  Carol Mortier and Dr. Tracy Lawrence consult on a patient. The physicians read studies as the sonographers performed them. |
|   | Lynette Mendoza and Dr. Helga Van Herle consult on a patient. Interpreters, identified by their orange t-shirts, worked throughout the clinic to help communicate with patients as needed. |
|   | Many medical students volunteered at the clinic over the weekend, and rotated from station to station throughout the arena. Here Dr. Radha Sarma shows a group of students how to perform and read an echocardiogram. |
| | ASEF volunteers Tammy Witke, Teri Blum, Peg Knoll, Birjees Ali-Rizwi and Lynette Mendoza, along with Care Harbor volunteer (and ASE member) Dr. Chiayu Chen and some of the medical staff working the subspecialty medical area. |