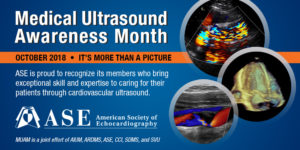 Thank You For Celebrating Medical Ultrasound Awareness Month!
Seven donors rose to the occasion and honored sonographers with donations in their honor. Contributions in honor of sonographers totaled $2,670. Each honoree was sent a personalized email thanking them for the roles they play in the lives of patients and those with whom they work. 
Medical Ultrasound Awareness Month (MUAM) was established to provide the public with a better understanding of ultrasound and its many uses of this fast growing technology in healthcare. It also provides ultrasound professionals a chance to celebrate their profession! ASEF celebrates the key role sonographers play in ultrasound by supporting their career development and research efforts.
If you wanted to participate but missed the chance, don't worry! You can always designate a donation in honor or in memory of someone. Just click the "Dedicate" button and include his or her contact information. We will send a notification of your donation.