Building on the success of the first ASE Global: Focus on India initiative in January 2012, the ASE Foundation sent a new group of sonographers to rural India to train a team of physicians and staff a free medical camp in December 2012.  The group performed over 1,000 focused echocardiograms over the course of two days.  Keep reading this page to go on a journey of the volunteers' work and experiences while in India.
ASE Global:  Focus on India
December 2012
New Delhi, India      
Media Coverage:
Medical Imaging, January 24, 2013, Medical Outreach Partner to Educate on the Use of Ultrasound in India
HealthImaging, December 10, 2012, ASE, GE Partner in India for Cardiovascular Ultrasound Training
On-Site Participants:  Partho P. Sengupta, MD, DM, FASE (Project Leader); David Adams, RCS, RDCS, FASE (Sonographer Team Leader); Manish Bansal, MD, DMB. FASE' Neha Soni-Patel, RDCS; Gurpal (Gee) Bhogal; Carlene McClanahan, RDCS; Jennifer Neary, RDCS, FASE; Marti L. McCulloch, MBA, RDCS, FASE; Lynette de los Santos, RDCS, MBA, FASE
Tele-Teaching Sonographer Participants: Brad Roberts, RCS, RDCS, FASE; Barry Canaday, RN, RDCS, RCS, FASE; Elaine Shea, RCS, RCCS, FASE; Ray Garcia, RDCS, FASE; Kriksten Billick, RDCS, FASE; Peg Knoll, RDCS, FASE; Bryan GenKuong; G. Monet Strachan, RDCS, FASE; George Mesa, RDCS; Teri Dittrich, RDCS; Todd Belcik, RCS, RDCS, FASE
Industry On-Site Participants:  LeaAnne Dantin, RDCS (GE Healthcare), Yair Ziv (GE Healthcare), Steffen Mueller (GE Healthcare), Zachary Smith (Core Sound Imaging), Jim Reuter (StatVideo), Ashish Duggal (GE Healthcare), Vivek Pillai (GE Healthcare), Tushar Sharma (GE Healthcare), M.K. Shilpa (GE Healthcare), Ashish Singh (GE Healthcare), R.K. Singh (GE Healthcare)
Medanta Leadership:  Ravi R. Kasliwal, MD
Indian Physician Participants: Dr. Anup Shyamal, Dr. Ahsan Ahmed, Dr. Ramit Wadhwa, Dr. Vikas Mudgal, Dr. Vishav Arora, Dr. Nitin Gupta, Dr. Brijesh Saran, Dr. Umesh Kashyap, Dr. Aastha Kansal, Dr. Sandeep Kumar, Dr. Rajnikant Shastry, Dr. Prashant Prabhakar, Dr. P. Farooq Khan, Dr. Ranveer Singh, Dr. Gianender Singh, Dr. Alok Kumar, Dr. Deepak Vats
Readers:  View our list of 61 physicians who provided expert interpretation of the 1,096 studies
On-Site Organization:  Nitin Insan
ASE On-Site Staff: Rhonda Price
DAY ONE:
Since I was one of the first to arrive, I'll start this blog.  I'm Rhonda Price, ASE staff and lucky participant of our training and humanitarian effort in India.   This is actually my 2nd time, since I also participated in a similar effort in January 2012.  The January effort was mostly a scanning event, even setting a world record for what I recall was the most Doppler ultrasounds performed within a 12 hour period – 525 (1,031 in 2 days)!  We had a great group of volunteers in January and I think of them every time I see a familiar place around here.  I also have a good feeling about the group that is on their way here now.  A few are delayed at London Heathrow as I write this.  Hopefully they'll be in India in time for breakfast.
The December effort will focus on training physicians.  Our sonographers will be training 20 Indian physicians who signed up to improve their image acquisition skills.  In India, there are sonographers but they are rare, mostly in the southern part of the country.  Our hosts for this event, Medanta-The Medicity, told us they've recognized Indian physicians need more guidance for maintaining quality and standards in cardiac ultrasound imaging during their busy clinical practice. Our sonographers will most certainly help them achieve that over the next four days.  We're going to spend one day of training at Medanta Hospital, then we'll all load up on a bus for travel to a community outreach site, where the Indian physicians and the ASE sonographers will work side by side for continued hands-on training for two days.  Altogether, we'll spend five days together.  Dr. Sengupta is even planning to include training on the bus ride to and from our outreach site.
I've been here less than 24 hours as I write this.  Dr. Sengupta and I arrived on the same flight at around 3 am.  Passport control was easy and we were soon greeted by drivers from our hotel bearing signs with our names.  A welcome sight at that time of morning!  We saw our first volunteer at breakfast at the hotel -Gurpal Bhogal (she goes by Gee).  A research physiologist from Manchester, England, Gurpal will provide a different perspective during this event.  Gurpal is an ASE member, and we're happy to consider ASE members from all over the world for participation in these types of events.  In Great Britain, physiologist is the title used for sonographers.  OK, there might be a little difference but I'll let Gurpal explain that later.
While we were in India, Dr. Sengupta and I met with some contractors and local leaders for the upcoming World Summit on Echocardiography to be held October 25-27, 2013 in New Delhi.  If you've been looking for a reason to travel to India, attendance at that meeting is as good a reason as any.  Eight echocardiography societies from around the world are collaborating on this event, and ASE is taking the organizational lead.  Visit www.wsecho.org for more information.  It's going to be a very exciting meeting.
After a little shopping late in the day (what's a trip to India without purchasing a Pashmina scarf or two?), we had dinner at Lazeez Affairs with Neha Soni-Patel, a sonographer volunteer from the Cleveland Clinic, and Jim Reuter, one of our corporate partners for this event from StatVideo.  It was good to get to know Neha and Jim, and the food was fabulous.  The good thing about this type of volunteerism is getting to know really good people.  Yair Ziv from GE Healthcare is also here, but he's only been with us through texting so far.  Hopefully, we'll make contact tomorrow.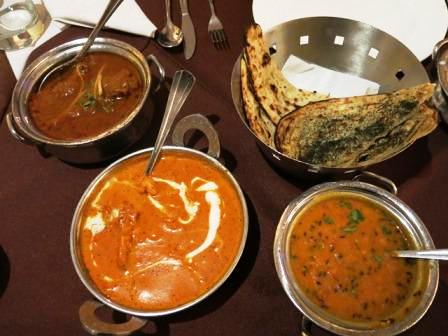 Tomorrow (Sunday) the rest of the volunteers arrive (fingers crossed).  Many are only hours away as I write this.  I'm going to encourage each volunteer participant to share their experiences and adventures in this blog over the coming week.  I'll finish it up the last day since I'll be the last to leave India.  We'll send it whenever Internet is available, so some posts may be delayed.  We invite you to follow us on this great adventure in an incredible country!
DAY TWO: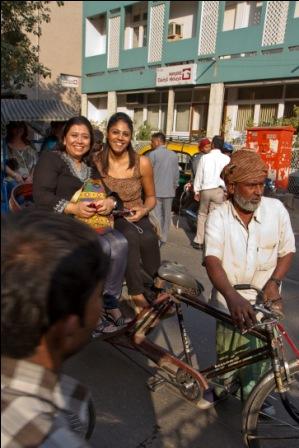 Greetings from Neha Patel and Gurpal Bhogal:  How better to get to know your new team than by having near death experiences, good food, and shopping?  Sharing all of these experiences today helped us get to know our team in a fun way.   After our fabulous breakfast buffet of omelets, waffles (heart-shaped, how cute!), and full-fat yogurt (wait are we in India?), we set off on a wonderful excursion of Delhi in the classic Ambassador car. We traveled in the chaotic traffic past the India Gate of New Delhi.  We decided that we needed to spice things up, so our group of 11 gave up the close confines of the cars and rode in open-air, 3-wheeled, bicycle rickshaws… and if that wasn't enough, we decided to race!  Our driver was a master of the streets and when that wasn't enough, he decided to make streets of his own on the sidewalk!  After finally arriving at the historic Red Fort (Laal Quila), we took a group shot, but other Red Fort visitors decided we (the ASE group) were a better attraction than the fort, so they took pictures of us. The Red Fort was beautiful. It's amazing to imagine what life was like in India 500 years ago. Red sandstone and marble were all over the vast field with perfume gardens and elaborate baths. We were lucky to have the jolly Mr. Kohli as our guide. He identified himself with a red umbrella, so if you got lost, just look for the umbrella. His happy personality was not only attractive to us, but to all that were visiting the fort today.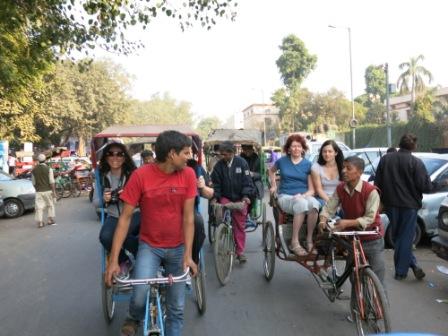 Word got out of our shopping spree the day before, so we headed back to the shopping bazaar. Nothing sounds like the "ching-ching" of money than a group of tourists headed your way, so all the vendors happily welcomed us back. To anyone who has traveled abroad you know you have to bargain, bargain, bargain! I think we did such a good job that the vendors realized after we left that they just lost money… although we were welcomed back as long as we didn't bring Gurpal back with us. She killed them in negotiations.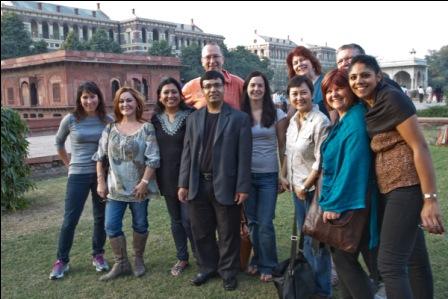 We arrived back to the hotel with bags and experiences in hand where we met up with the rest of the group that finally made it to India after mechanical delays in London.  To end the night we had a great dinner with the entire team which was never ending!  We stuffed our bellies to the fill and rested peacefully in the chairs… then they announced the main course was on the way. Work starts tomorrow and while we have had fun, we know that we are here for a greater purpose. Spending the day with the team, laughing together, playing together, and having fun will make us all the better when we are working together. There is so much work to be done. We just hope that we can fulfill everything that we need to and meet the expectations of what the hospital and physicians need from us.
DAY THREE:
Greetings from Marti McCulloch and David Adams: Okay, the time for death defying rides in rickshaws and death by shopping (for David) is over. After an early breakfast we traveled to Medanta, The Medicity by cabs in the crazy morning rush hour traffic. As Rhonda wrote in Day One's Blog, we have planned to educate a group of 20 physicians from all over India, with varying echo experience, to help us scan patients coming to a free cataract surgical clinic in rural India later in the week. This was a very different scenario compared to the January ASE mission to this country where all the scans were performed by ASE sonographers. This time our role is to educate and support improved scanning technique for current practicing physicians.
We also wanted to test the effectiveness of remote versus face to face training. So we divided the physicians into two groups and "built" two echo labs in an auditorium and adjacent hallway. Each lab contained five beds. The lab with the GE Vscans was used as the face to face training lab. Each bed had a sonographer helping the physicians obtain a Focused Echo study. That part was easy except that the hallway quickly became crowded and very hot. In the middle of the afternoon Marti asked for bottled water to be brought for all the sonographers and the helpful man quickly returned with a tray filled with cups of nice hot coffee!
The second lab was set up with five beds positioned around the small auditorium. Each echo machine (GE Vivid I or Q) was connected to the Web for live viewing of the images using an EchoBox contributed by StatVideo. Knowing the IP address, Name and Password for a specific EchoBox allows anyone with an internet connection to view the live images. There was also a laptop computer running Skype for the "audio" connection. Now the fun began as we called US based sonographers who were waiting by their phones and computers to help the physicians obtain, optimize and review any pathologies seen. Education and feedback just like the physicians in the other "Lab" were receiving face to face! The patients came from a free Cardiac Checkup Clinic that Medanta was running where patients were receiving an ECG, BP check and consultation. We performed over 150 echo's during the 7 hours we were scanning.
Late at night we received this email feedback from Brad Roberts, one of the remote teachers:
David,
Thanks again for inviting me to participate in such an exciting international event. I hope that things went well with your crew on the India end of things. I'm sure you're beat! thought I would give you some feedback on my experience and see if the other US crew had a similar one. My call started at 10:01 pm CST (Note from DA: Brad is in Dallas – due to the time difference with India I tried to have mostly West coast sonographers do the training from 7:30 – 10:30 pm) and lasted 1hr 17min.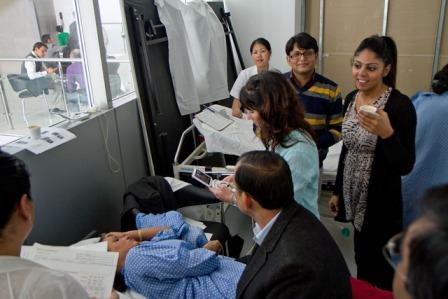 The largest challenge, by far, was in actually hearing and understanding the person on the other end. It sounded like my mentor was in a large cafeteria with ongoing overhead announcements and I had to pick his voice out of a crowd. It helped when he spoke louder but I'm sure this only exacerbated the cafeteria effect for everyone else. Apart from this hurdle, I am happy to say we were able to accurately correct views and discuss anatomy verbally as I watched the live feed. (Note from DA: we quickly recognized this problem and found headphones with attached microphones to replace the computer speakers and microphones for most of the scanning stations with much better audio results.)
The EchoBox system worked just fine on the smaller sized Video 3 mode. Some of the jerkiness was present, but I found the image quality acceptable for a live feed thousands of miles away. The mentor was very pleasant to converse with and we had a few laughs along the way. We only managed to get through two patients on EchoBox 4, but I feel like the entire remote methodology was a success.
Thanks again and safe travels,
Brad
While our pediatric cardiology colleagues and others have used real-time video connections to evaluate patients from remote sites, this has always been a very expensive endeavor. NASA has the ability to help astronauts up in the International Space Station obtain better images using the echo equipment on board, however there is the 18 second voice delay to contend with and it's a bit pricey. Labs (including Duke) are using the EchoBox as a way to provide expert guidance between sonographers dealing with a particularly tough case (especially Adult CHD pts) and a physician. However this was the first time that  such inexpensive, high quality, remote, and secure connections were used solely to teach image optimization to a group of physicians on the other side of the world just like you were standing next to them.
Echocardiography is a team event and never has that been more true than today. From the physicians, sonographers, IT people, support from GE and StatVideo, each played a vital role. Today we accomplished something that has never been done before and honestly has the potential to revolutionize patient care and outcomes in the future. In fact, after the scanning event we met with the Chairman and Managing Director of Medanta, Dr. Naresh Trehan, and we discussed how to collaborate further with the ASE and the possibility of perhaps having Medanta purchase or receive as a gift one of the Echo Boxes so that there could be continued remote educational support and mentoring with ASE volunteers. After discussing this with StatVideo, the owners decided to gift one of the Echo Boxes to Medanta!
DAY FOUR:
Day four was a very long travel day, so this blog is being written by Rhonda again to give the hard working sonographers a rest.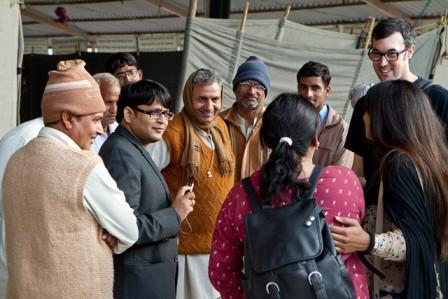 Stepping back a bit, day three ended with a lovely dinner for our group, hosted by Dr. Ravi Kasliwal, his wife, and several physicians from Medanta, The Medicity.  We could do a whole blog on Medanta, but maybe later. Not only did the dinner feature delicious Indian cuisine and beverages, we were serenaded by a trio of musicians playing instruments unique to this part of the world. And our view was of a venue celebrating an Indian wedding celebration, complete with fireworks. This is a very popular month for wedding celebrations!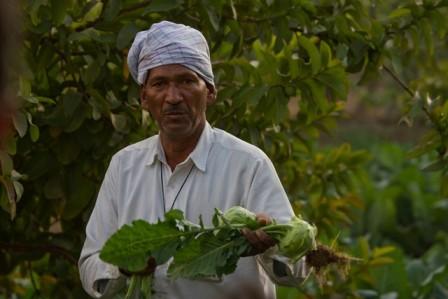 On day four we all struggled to make Dr. Sengupta's suggested "load up the bus" time of 8:30 am, so we were slightly delayed in our departure. After leaving our hotel, we swung by the meeting place of Medanta to pick up our training physicians (who reside throughout India) for the ride to the community outreach site. The weather alternated between a drizzly rain and a foggy haze, which wasn't uncomfortable when you're inside and made the life scenes unfolding outside our windows seem surreal. As our bus worked through the busy New Delhi traffic and through the outlying towns, we observed uniformed school children waiting for their ride, someone chopping wood, cows and pigs roaming freely through the streets, napping dogs, market life, people stopping for tea, members of a uniformed brass band returning to work or home after an official function, sheep stopping for water as they are being herded from here to there, and skeletal ruins of structures that indicate they were once grand. Store fronts are open in the villages like a garage door, so it was a bit like peeking into a dollhouse with three walls and no front, except there were real people in the different rooms. The soundtrack of our bus was soft conversation, laughter, and occasional snoring. In one town we were entertained watching a group of young boys run behind a moving cart full of sugar cane, snatching a stalk of the cane and running off to enjoy the rewards.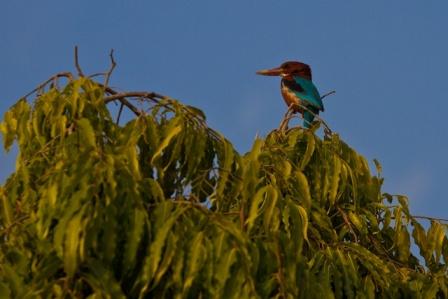 The longer the journey, the more the land turned to agriculture, filled with people picking cotton and mustard. Our volunteers passed the time by snoozing, conversing with each other and doing some small group training. The group has developed an ease with each other.
During the afternoon, we stopped at an ashram where they had prepared a light lunch for us. This visit was arranged by our friend Nitin Insan, who joined us on the journey from New Delhi. The food was prepared from the fruits, vegetables and herbs grown on their organic farm, and women there had prepared paratha and chopati over their wood stoves. We grabbed our cameras to take pictures of our local hosts and they enjoyed the attention. We were delighted to see a Kingfisher perched in one of the nearby trees. (We understand that indicates good luck.) Following the tour of their gardens and a group picture, we got back on the bus for the last leg of our journey.
The trip was long and we didn't arriv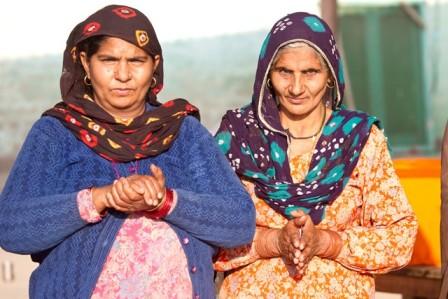 e at our destination until well after dark. We were greeted at the hotel with bouquets of fresh flowers for all, a lovely tradition. I was pleased to see some old friends I had met during my visit in January. A light dinner from our local hosts was all we needed, and on to bed to rest up for a long day tomorrow.
Many thanks go to Steffen Mueller of GE for his photographic contributions.
DAY FIVE:
From Rhonda:   The sonographers continue putting in long hours (and then fall into bed) and will put their thoughts to words tomorrow on the long bus ride back to Delhi.  In the meantime, Andrea Van Hoever of the ASE staff (who has very capably organized the reader program in collaboration with the staff at Core Sound Imaging) sent this overview of that program:
Sixty-four ASE physician members with Level II training are reading the focused echocardiograms online from locations worldwide, ranging from major U.S. and Canadian hospitals to overseas facilities located in Bulgaria, Colombia, Egypt, Georgia, Greece and Italy. Using Core Sound Imaging's Studycast, the physicians are able to view their assigned studies online and then complete an abbreviated findings report for each patient. The reports are then being rerouted back to India for review by the onsite physicians for follow-up care decisions.  View the list of participating physicians here.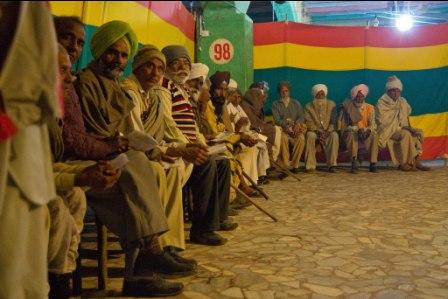 The time zone here is 10.5 hours ahead of Eastern Time. Meals for us come when time permits, but we've had some delicious food prepared for us by our local hosts (especially the bread). Our hosts keep us supplied with excellent tea and coffee – heavy on milk and sugar. In fact, they BEG us to drink tea and coffee, bringing it to us in what must be 10-minute intervals and insisting that we drink. My apologies to Starbucks, but I haven't missed my daily tall skinny cappuccino one bit. I've discovered they really do love their sweets in India. And now I've discovered Limca…
What I wish I had right now:
·         More writing pens (they keep disappearing)
·         Turbo charged Internet
·         Lights that only go off when you flip the switch
·         A massage
I must say that I was right about the volunteers on this trip. They are smart, professional and kind. And our corporate partners have been like family. Many thanks to all who have contributed to this effort.
| | |
| --- | --- |
| | |
| | In the Maharaja room |
| | Jennifer at work |
| | Caring for a loved one |
| | Sachkhand Hall where meditation is taught. The male and female wards of the camp are on either side of the hall. |
| | Waiting their turn for echoes. The lines got very long! |
| | |
| | |
| | |
| | Conferring on an image |
| | Patiently waiting for his echo |
DAY SIX:
Work (and play) prevented contributions from the volunteers during the actual medical camp days, so here are their reflections during the bus ride back to Delhi:
Submitted by Lynette de los Santos: 
We had a late start yesterday at around 4pm and finished at 2:30am… it was physically and emotionally draining. I was told by one of the cataract camp volunteers that they registered around 8,000 and are expecting about 5,000 today… they were coming from different parts of the district. Not all of them are having  echos though… thank God! My arms will probably fall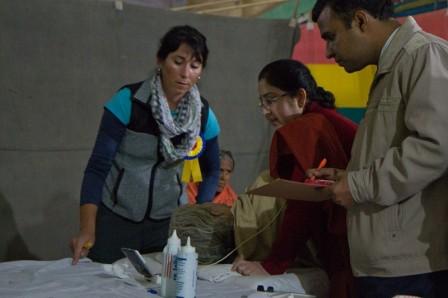 off in the end if that was the case. Today is our second and last day, we had a quick breakfast and started to head back to the camp where we were just a few hours earlier. Our set-up was the same as yesterday – 5 beds for the male ward and 5 for the female ward where I was, along with Marti, Neha, and Gee. By the way, the male ward had a big "ECHO" sign outside while the female ward did not… and why is that? It was because females were smarter (according to Marti! LOL). Patients started to come, one after another with their testing sheet on hand. The lines got shorter… then longer… and longer… they just kept coming!!! There were calm moments but it quickly became chaotic towards the evening when some of the women started getting restless. We were afraid our fabric divider was going to fall down.  Neha came to the rescue and talked to the women waiting outside and they listened and became patient. It was very tiring to say the least but there was a positive vibe in the air that kept everyone going. I actually felt more energized today than yesterday. There's something about this experience that is so surreal… I want to seize and enjoy every moment of it.
The hands-on training that we provided to the local doctors has paid off. The physicians have so much confidence following the protocol and actually capturing great images with the GE Vscan within our goal of 10 minutes per study. Most of them stayed and worked with us yesterday and they have the same if not more enthusiasm today. Our workflow was smoother getting patients in and out. The local GE folks, especially Ashish, were extremely helpful getting the studies downloaded and helping with battery changes. We would just call out his name…"Ashish!!!! …and there he was right in front of you with a smile, offering his help. "How can I help you Ma'am Lindel" (he never got my name right but I think he just wanted to be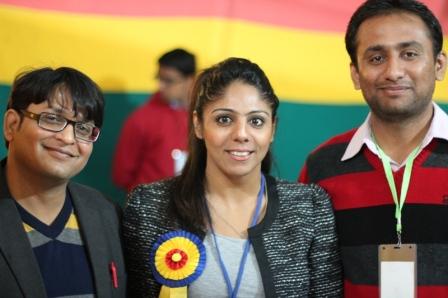 funny). We found ourselves laughing, making jokes, enjoying the Indian tea and coffee that were so generously offered throughout the day.
I have to be honest and say that I was skeptical about the focused echo protocol.  I was worried that we wouldn't have enough images to provide diagnostic study, but I realized that our goal was to provide cardiac testing and it was enough to assess LV function and valvular abnormalities. The Vscan proved to be a great tool to use for focused echo studies. It was quick and easy to use! Our mission to offer sustainability by providing hands-on training to local cardiologists was happening right before our eyes.  It was amazing to see their imaging technique develop in such a short period. I certainly hope that all their expectations were met and that we have provided them a good foundation to further develop their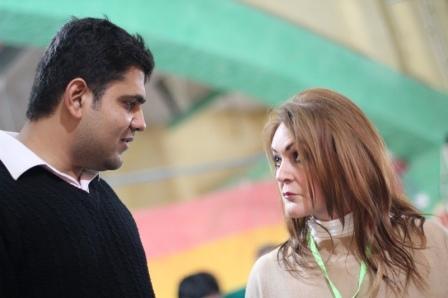 scanning techniques. Thank you ASE for this life-changing experience… this was really an adventure of a lifetime!!!!
Photo top right:  Marti McCulloch took the lead in the women's ward.  Left:  Physicians, sonographers and industry worked side by side to achieve patient care for the underserved.  Bottom right:  Ashish and LeaAnne kept the GE Vscan equipment ready for 1,096 studies… and more!
Submitted by Carlene McClanahan and Jennifer Neary: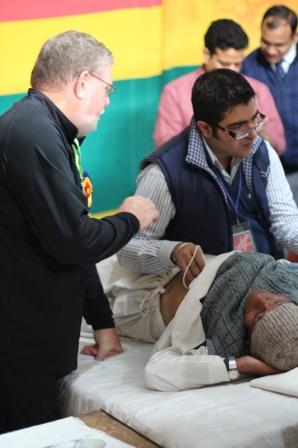 It's midday Friday and oh, what a week we have experienced here in India. We are traveling back to Delhi by bus after our two days of scanning at the medical camp. We arrived at our destination hotel later than expected on Tuesday night. Greeted with floral bouquets and friendly handshakes, we met over coffee and tea to discuss strategies for the upcoming days at the camp.
Wednesday morning we set out for the medical camp to view the facilities and meet our hosts.  A ceremony was held to commemorate the first day of camp, welcoming the patients and visitors in attendance, and explaining the purpose of our mission there.  We were taken on a tour of the on- site hospital where various procedures are performed, including the cataract surgery our echo pa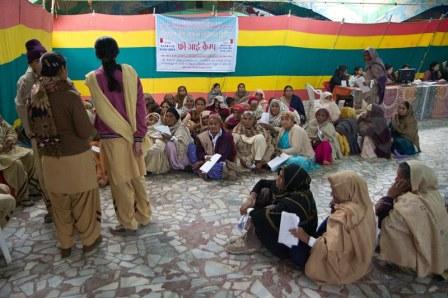 tients were being screened for. As we were meeting for lunch, patients began to arrive at the hospital to begin their pre-admission testing. We gathered once more for a quick meeting to discuss the protocol, review technical problems and their solutions, and split the group into two teams to cover the two separate scanning areas we would be running (female ward and male ward).
It was determined that Jennifer, David and I would be scanning in the male ward alongside nine Indian physicians, mentoring them and assisting when needed. Our business partners at GE provided the Vscan handheld machines which were used for the general testing echoes. Vivid I and Vivid Q machines were on hand to add additional information and images if this was deemed necessary. Core Sound Imaging was the supplier of the cloud-based image storage used during these two days for the reader program. Around 4 pm we began scanning our first patients.
There was a wonderful air of cooperation and collaboration in our room. The language barrier became a non- issue, as our Indian physician partners helped us work with the patients. Senior, more echo-seasoned doctors assisted their less experienced counterparts, and assisted our sonographer team as well, as we scanned through the night, breaking only for dinner around 9 PM. We wrapped up the final patients on that first day at 2 AM Thursday morning. Walking out into the still night, we were tired but satisfied.  The first day had been a resounding success…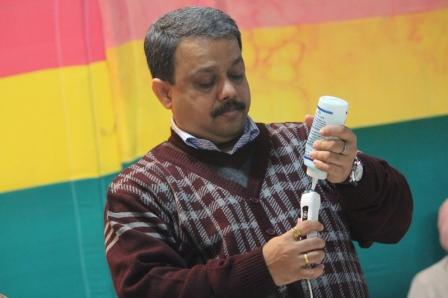 Thursday morning at 9 AM we were back at the medical camp, ready to resume scanning the next round of patients. As the second day went on, we individually and collectively reached the same conclusion.  Our physician partners/students were improving significantly in their ability to scan patients and recognize pathology.  This was impressive given the fact that many of the doctors had little to no echo experience. In addition to that, the majority many of the patients exhibited the same limited windows of those with COPD. By the end of the first day of medical camp, our physicians were able to identify valvular pathology and more accurately visually quantify regurgitation. On the second day of the camp, they progressed to be able to identify wall motion abnormalities, which were the most significant findings in this patient population. In our opinion this crash course was not only an amazing experience and a wonderful collaboration, it was effective in advancing their practice of echocardiography.
Photos: Left – David provided leadership in the men's ward. Right above – women waiting for their turn. Lower right – prepping for the next study.
OVERVIEW OF A VISION FULFILLED
Submitted by Partho Sengupta:
We just boarded the bus back to Delhi, the organizers (some of whom are my close friends) queued to bid us good bye. The last 30 minutes before departure saw the usual intense exchange of emails, phone numbers, last minute photos, exchange of memories, and invitations for returning.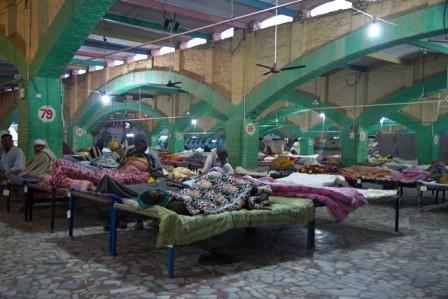 Patients who underwent the pre-anesthetic evaluation and the focused ultrasound examinations have now been assigned beds in the massive Sachkhand Hall, awaiting their turn for the operating room, enthusiastic for regaining back their lost vision. Over the next two days, thousands of cataract surgeries will be performed at a brisk pace. They will use local anesthesia which would contain adrenaline and phenylephrine drops – both potent cardiac medications.
During pre-anesthetic evaluation, doctors evaluated patient's symptoms and auscultated under noisy surroundings hoping to exclude cardiac lesions that would put the patients at risk for an adverse cardiac event in the perioperative period. Many patients did not make it to the wards because they were having uncontrolled hypertension. Those who had known heart diseases were also advised to return to the community hospital at a later date for cataract surgery under topical anesthesia in monitored settings. For the remaining patients finally selected for cataract surgery, we performed focused echocardiograms to ensure that a structural heart disease was not missed in the fast paced, crowded and noisy environments of the camp where a cardiac murmur could be difficult to distinguish.
This year's camp was unique in several regards. Our industry partners – GE Healthcare, Core Sound Imaging and Statvideo – agreed to venture with ASE in a proposal to educate Indian physicians and elevate their skills by scanning amidst the tough environments of a rural camp. The initial training session at Medanta included an innovative session (VISION project- Value of Interactive Scanning for Improving Outcomes of New Learners) wherein we tested the ability to stream images from handheld echo devices from GE healthcare to connect trainees from India with sonographer educators in the US. We also had live hands-on scanning sessions for familiarizing the physician trainees with protocol for using focused ultrasound that would be then used in the camp settings. This event opened up new avenues in tele-echocardiography, tele-education, remote consultation and tele-presence.
The second part of education was achieved in a Cataract camp organized at a spiritual institution in North India (Dera Sacha Sauda, Sirsa, Haryana). We had seven sonographer educators who traveled to the cataract camp to oversee and supervise seventeen physicians.  Throughout the camp we grouped together at periodic intervals to discuss the plans and directions, sharing what we had individually seen.  The most incredible moments were those when we detected severe cardiac abnormalities – and we could not believe that these were patients who had been examined and deemed fit for surgery! We saw all kinds of abnormalities that were not picked up during the pre-anesthetic examinations- ranging from severe mitral and aortic valve stenosis to severe left ventricular dysfunction, and pulmonary hypertension. Amongst valvular lesions, it was common to see aortic regurgitation – perhaps these were missed because a regurgitation murmur is the most difficult to discern in noisy backgrounds.
At the end of each day, I went through the list of patients who had disease that would be considered prohibitive risk for a fast paced community cataract surgery. These patients were advised to seek follow up care and surgery in the local hospital at a later date under monitored settings. Thus, the hypothesis that physicians could be trained quickly to use pocket ultrasound for detecting significant cardiac diseases during mass testing event for cataract surgery was confirmed.
The official read for the number of scans that have been uploaded is still awaited (update – 1,096 studies were uploaded!). Over 60 readers worldwide would be interpreting the scanned images. The final reports from expert readers will be useful in confirming the accuracy of physician trainees and help further patient triage. The rumors are that we may have come close to over 1000 studies, or maybe the numbers are just over what we did last January. These numbers however are incredibly astonishing because it involved scanned images from physician learners who were undergoing a very disciplined scanning protocol under the guidance of sonographer educators. The enthusiasm with which the physicians participated and stayed committed reflects their interest in learning and the need for structured training programs. Certificates of participation were distributed on the last day. Vote of thanks were proposed to the sonographers with special appreciations expressed for David Adams, Marti McCulloch, LeaAnne Dantin from GE Healthcare and Zachary Smith from Core Sound Imaging. We expressed our heartfelt thanks to members of Dera Sacha Sauda, for allowing us to be a part of this camp.
Overall this global outreach event has been a rewarding experience, an amalgamation of new technology assessment, education, humanitarianism that touched countless individuals – new learner physicians, sonographers onsite and overseas, patients, volunteers, doctors, social reformers and physician readers. Like last year, we are returning back enriched, feeling good that so many lives will have a new vision of the world.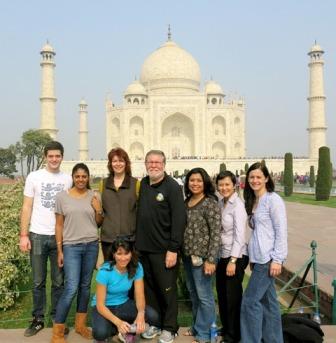 Submitted by Rhonda Price:
As I write this, the volunteers have all departed and I'm waiting on my return flight from Delhi. Everyone left exhausted, but with stories to tell, memories for a lifetime, and new friends.  Many checked off a few items on their "bucket list."  We managed a trip to Agra to see the Taj Mahal, and then everyone left Delhi in the middle of the night, heading towards the faces of loved ones missed, their own beds, and the joy of a regular routine.  It was a special week.
ASE at Taj Mahal, left to right:  Zachary Smith (Core Sound Imaging), Gee Bhogal, Carlene McClanahan, Marti McCulloch (in front), David Adams, Neha Patel, Lynette de los Santos, Jennifer Neary.
The Last Word from our on-site participants:
From the sonographer team in India to those in the US on the end of a Skype connection, to the Industry partners, Indian physician trainees and attendings, Rhonda and Partho  – everyone worked towards a common goal of education and service. One of the most amazing educational events I've ever been a part of and what the ASE / ASEF is all about! – David Adams, RCS, RDCS, FASE
I thought this trip would be a way of fulfilling my desire to give back…. Instead, I am finding that it has left me thirsting for even more.  I love it! India is a land of many colors both physical and metaphorical.  All of these colors added a new layer to the experience.   – Neha Soni-Patel, RDCS
Complete strangers turned into great friends. What more can you ask for? …We all worked very hard like there was no end, but the praise and recognition that we had once we finished felt like we completed what we set out to do successfully. It was such a rewarding experience. – Gee Bhogal
It was indeed a memorable experience, one that's already in my box of treasured memories! – Lynette de los Santos, RDCS, MBA, FASE
I feel priveledged to have been a part of this experience. I've always believed that real living begins at the end of your comfort zone. – Jennifer Neary, RDCS, FASE
I was  honored to participate in bringing this type of medical care to an underserved population, while working as a  representative of ASE. We had a wonderful group of people – so easy to be with, work along side of, and have fun in the meantime.  It really was a pleasure… – Carlene McClanahan, RDCS
The remote echocardiography activity that we conducted at Medanta on 10th December was a watershed event in the history of healthcare delivery in India and can potentially change the way we practice medicine here (or anywhere, for that matter). I get thrilled to just think about the significance of what we achieved on that day! – Manish Bansal, MD, FASE (Medanta The Medicity)
It was quite astonishing – we impacted clinical decisions in an estimated 70 patients in whom the physical evaluation missed severe cardiac abnormalities. Very rewarding indeed! I need to thank David and Marti for leading the teams so ably with clearly defined protocols. The whole team this year was so special.  And, we created history with the first transcontinental teleechoeducation! – Partho P. Sengupta, MD, FASE
The teaching was very effective – so effective that Medanta ended up with an EchoBox with the intent to further education and training in a similar manner, which is so exciting because of the overall effect it can have on improving patient care. – Marti L. McCulloch, MBA, RDCS, FASE