The ASE Foundation's 2018 global health outreach events are supported by donor contributions to the Annual Appeal and by a grant from the Edwards Lifesciences Foundation Every Heartbeat Matters program.
---
West Virginia: CHOICE 2018
Morgantown • West Virginia
October 2018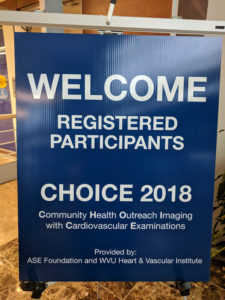 On October 20th, the ASE Foundation partnered with the West Virginia University (WVU) Heart and Vascular Institute to hold its first U.S.-based health outreach event since 2014. CHOICE 2018 – Community Health Outreach Imaging with Cardiovascular Examinations – brought a team of 20 ASE Foundation volunteers to West Virginia to participate in a one-day, free cardiovascular testing and diagnostic event held concurrently at four clinic sites in the greater Morgantown area. To disseminate information about the free event, local primary health care providers recruited and referred their high-risk adult patients to attend. The WVU marketing team distributed flyers, ran digital advertisements, and pitched pre-event interviews to media outlets. The overwhelming interest from people in the region yielded over 2,000 responses!
---
Team Leaders:
Partho Sengupta, MBBS, MD, DM, FASE – WVU Heart and Vascular Institute, Morgantown, WV
Sanjeev Bhavnani, MD – Scripps Clinic and Research Foundation, San Diego, CA
Medical Team:
Ted Christman, RCS, RDCS, RVS, RVT – Cardiac Care Consultants of New Mexico, Los Lunas, NM; Ashlee Davis, RDCS, ACS, FASE – Duke University, Durham, NC;
By the Numbers:
140+ volunteers
4 clinic sites
7.5 hours
374 patients
Natalie Fauss, RCS – MVHS St. Elizabeth Hospital Campus, Rome, NY; Kelly Kasir, RCCS, RCS – Aurora Healthcare, Grafton, WI; Batina Kight, RDCS – Duke University, Durham, NC; Georgeanne Lammertin, MBA, RDCS, RCS, FASE – University of Utah Hospital, Salt Lake City, UT; Bryana Levitan, RDCS, FASE – University of Kentucky, Lexington, KY; Carlene McClanahan, RDCS, FASE – Massachusetts General Hospital, Boston, MA; Maureen McDonald, MBA, RDMS, RDCS, FASE – Thomas Jefferson University, Prospect Park, PA; Patrice McKay, RDCS – Palms West Hospital, Boynton, FL; Lynette Mendoza, MBA, RDCS, FASE – UC Davis Medical Center, Folsom, CA; Susan Morehead, RDCS – Cincinnati VA Medical Center, Cincinnati, OH; Bharat Patel, RDCS, RVS, RDMS, FASE – Hoboken University Medical Center, Nutley, NJ; Eileen Richardot, RCS, RDCS, FASE – Valley Health System, Ridgewood, NJ; Inga Robbins, MD, FASE – Atlanticare Mission Health, Galloway, NJ; Vincent Sorrell, MD, FASE – University of Kentucky, Lexington, KY; Ritu Thamman, MD, FASE – University of Pittsburgh, Pittsburgh, PA; Nidhish Tiwari, MD, FASE – Jacobi Medical Center/Albert Einstein College of Medicine, Bronx, NY; Tom Van Houten, MHS, RDCS, FASE – The Ohio State University, Columbus, OH; Neil Weissman, MD, FASE – MedStar Health Research Institute, Washington, DC; ASE Staff – Mary Carmody, Mary Alice Dilday, Debbie Meyer, Rhonda Price, Lori Smith, Andrea Van Hoever, Robin Wiegerink
Partners In Care:
AliveCor
Butterfly Network
Cloud DX®
Edwards Lifesciences Foundation
Hitachi Healthcare Americas & Hitachi Healthcare Americas Informatics Division
Kencor Health
Phosphorus Inc.
West Virginia University Heart and Vascular Institute  
---
Media Reports
Country Roads: Vulnerable West Virginia Heart Patients Targeted in Outreach Program, tctMD: published October 29, 2018
WVU partners with national heart group to offer free exams, WVU Medicine: posted on September 25, 2018
ASE Foundation Partners with WVU Heart and Vascular Institute to Conduct Free Cardiovascular Exams, ASE: posted on October 8, 2018
---
| | | | |
| --- | --- | --- | --- |
| Bridgeport Site | Elkins Site | Farimont Site | Morgantown Site |
Patients who pre-registered were scheduled for appointments on a first come, first served basis. During the span of just 7 ½ hours across four WVU Medicine locations (Morgantown, Fairmont, Bridgeport, and Elkins), 374 patients were provided free cardiovascular testing exams which included vitals, EKGs and point-of-care cardiac ultrasounds. Each patient underwent two visitations, one with a physician and the other with a sonographer clinical team. The four locations featured 40 exam rooms with 20 providers and 20 teams of sonographers and trainees, including fellows and residents from internal medicine, family medicine, emergency medicine, and critical care who were trained to use innovative technologies.
---
Technology At Work
| | | |
| --- | --- | --- |
| ASEF volunteer Tom Van Houten performing a point-of-care cardiac ultrasound | Mobile EKG monitors were used to capture patient heart rates. | Cloud-based android tablets with hookups for pulsewave, pulse oximeter, and weight collected patient vitals. |
The results of the diagnostic tests were provided to the patients immediately. Twenty-nine patients merited full ultrasound examinations and received comprehensive exams using a high-end cardiovascular ultrasound system provided by Hitachi Healthcare Americas. Follow-up care was scheduled as needed.
---
"This event had several 'firsts,'" said Dr. Sengupta. "It was the first time a national society, such as ASE, partnered with an institution for an event in West Virginia; the first time a testing and diagnostic event with ultrasound-on-a-chip technology was used in a community event organized by the ASE Foundation in the United States; and the first time in the world where so many unique mHealth and cloud-based technologies came together at the point-of-care for a testing or diagnostic event."
---
This outreach event was a success thanks to the collaboration of many people.
Photos, left to right: Over 140 dedicated volunteers donated their service. Dr. Sengupta welcomed the volunteers at a training session held Friday evening. Volunteers get hands-on training with the equipment they will use on site. 
West Virginia University fellows and residents were invited to volunteer to get real world experience and training along side ASE Foundation experts. 
---
Great views of the heart and of West Virginia
Sunday morning the ASE Foundation volunteers were brought to the West Virginia University Heart and Vascular Institute for a chance to discuss and share as a group. Dr. Sengupta presented a few stand-out cases and then led a tour of the institute. The weekend came to an end with a short drive out to Cooper's Rock for a beautiful view of the canyon section of the Cheat River.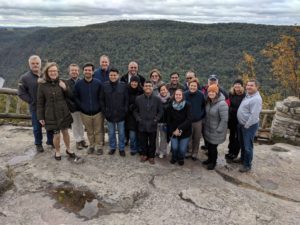 ---