The ASE Foundation's global health outreach events program is designed to bring humanitarian adult and pediatric cardiac care to developing countries, teaching local clinicians and providing direct services to those in need. These efforts not only impact the lives and well-being of countless patients in underserved populations, but they also serve to spotlight the versatility and adaptability of cardiovascular ultrasound while advancing practice standards to uniform treatment and improve patient care worldwide.
The ASE Foundation's 2016 global health outreach events are supported by donor contributions to the Annual Appeal and a grant from the Edwards Lifesciences Foundation Every Heartbeat Matters program.
---
Xi'an, China September 2016
Team Leaders:
Cynthia C. Taub, MD, FASE – Montefiore Medical Center, New York, New York, USA
Liwen Liu, MD – Xijing Hospital, Xi'an, China  
Medical Team:
Jose Banchs, MD, FASE – University of Texas – MD Anderson Cancer Center, Houston, TX, USA; Keith A. Collins, MS, RDCS, FASE – Froedtert/Medical College of Wisconsin, Milwaukee, WI, USA; Erica G. Chung, RDCS, RDMS, RVT, FASE – North Shore University Hospital, East Meadow, NY, USA; Dali Fan, MD, PhD, FASE – University of California Davis Medical Center, Sacramento, CA, USA; Vera H. Rigolin, MD, FASE – Northwestern University, Chicago, IL, USA; David Slovut, MD – Montefiore Medical Center, New York, New York, USA; Jian Zhang – Duke University Medical Center, Durham, NC, USA.  Staff liaison:  Rhonda Price
Special thanks to our team members in Xi'an and Yan'an: Xijing Ultrasound Dept:  Xiaodong Zhou, Minjuan Zheng, Xin Meng, Jing Wang, Hua Feng, Xinxing Yang, Shujia Sun, Nan Kang, Daojie Xuhong, Haiyan Zhang, Xi Chen, Jianyong Peng, Wenqing Gong, Dan Zhao, Fen Gu, Xiaoli Zhu, Wei Han Xijing Cardiothoracic Surgery Dept:  Wensheng Chen, Feng Jin, Chao Zhang Yan'an Ultrasound Dept:  Jianlei Zhang, Shengjun Tuo, Xiaochuan Feng, Xiaoye Cao, Lei Jing, Xinyu Liu, Yishu Jing
The expected long-term, residual impact of this specific event is a deepening relationship with a potential long-term partner in China, advanced training for attendees in China, improved patient care in rural areas, cultural and educational exchange, and a unique volunteer opportunity for ASE members.
---
Reports from China
Introduction
Greetings from Xi'an! The good intentions for this event were to make daily blog reports. However, our days were full, internet was random, food was plentiful, and our experiences were memorable. So, we made a group decision to live in the moment and report later. We had a mishap with a shower door resulting in stitches, a quick case of food poisoning, and last night we had an "uh-oh" moment when we left our Foundation Chair behind at the night market. Other than that, things have been perfect.
This event is an ASEF collaboration with Xijing Hospital in Xi'an, China. We could not have asked for more perfect (or more generous) hosts. The purpose of our collaboration was to provide continuing education training for the medical communities in Xi'an, Yan'an, and Ansai cities, all located in Shaanxi province in central China. In addition, free cardiovascular clinics were held in Yan'an and Ansai. More information about those events later. First we'd like to introduce you t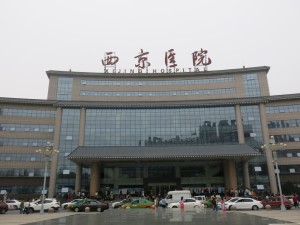 o our institutional hosts.
Xijing Hospital has a history of more than 70 years and is a large general hospital combining medical care, education, and research. In clinical practice, they have conducted more than 20 national or world "firsts," including ten-finger replantation and face transplantation. In 2015, they had 3.85 million outpatient and emergency visits, 91,600 operations, and the average stay of in-patients was 6.76 days. Xijing Hospital is ranked number 5 in China. The Department of Ultrasound, which is separate from the Cardiology Department, was founded 50 years ago, and is now under the guidance of Dr. Liwen Liu. The Ultrasound Department does 2,500 echo studies a day, with a staff of 188!
The great joy of this event has been the opportunity to spend this week getting to know our Chinese hosts through our work together, over shared meals, and by joining them in visiting sites throughout the region to better understand their culture.
Photo:  Xijing Hospital in Xi'an, China
---
Highlights Report – Submitted by Dr. Vera Rigolin, ASE President-Elect
The ASE Foundation completed an amazing humanitarian and educational event in China this past week. Let me share with you some of the highlights: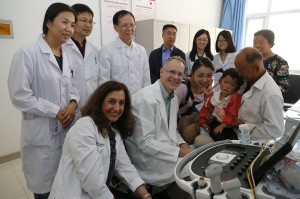 The week began with meeting our Chinese hosts in the city of Yan'an where we participated in a day full of educational lectures. The following day was spent in the People's Hospital of Yan'an performing echo testing on approximately 70 needy patients. The patients were a mixture of adults with acquired disorders such as hypertension and children with a variety of congenital heart disease. The echo exams were done quickly and efficiently, particularly since the very young children had a limited attention span! Patients with surgical disorders were then referred for cardiac surgery at the large academic medical center, Xijing Hospital, in Xi'an. Additional testing echo exams were performed later that afternoon at Ansai People's Hospital a few hours away.  A similarly grateful and enthusiastic crowd awaited our group at this smaller, county-level hospital.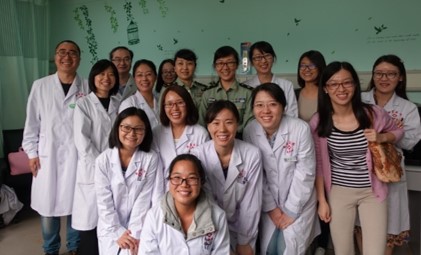 We then traveled to Xi'an where we visited the expansive campus of the Xijing Hospital. In 2014, this large academic medical center accommodated 3.8 million outpatient visits and 150,000 inpatient hospitalizations. We had the fortune of touring the facility where we saw their expansive simulation laboratory used to teach medical students and residents as well as the military. We also toured their echo lab where hundreds of patients are scanned daily. We also visited Dr. Liwen Liu's research laboratory where she conducts hypertrophic cardiomyopathy research.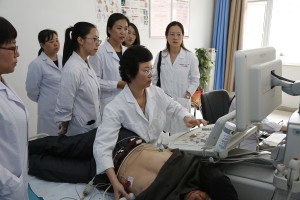 The following day, we participated in another day of impressive lectures and learning at the 1st Xijing International Cardiovascular Ultrasound Medicine High-End Forum. There were approximately 330 attendees at this event that was hosted by ASE, the Shaanxi Association of Ultrasound in Medicine and Engineering and the Ultrasound Medicine Department of Xijing Hospital. Interspersed between the clinical and educational activities was the ability to experience the wonderful culture that China has to offer, including amazing food, national monuments and historic sites. The highlights of the trip, however, were the friendships that we developed and the relationships that we created. Although languages are different, our passions for echo, patient care, teaching and learning are exactly the same. We found that we have more similarities than we do differences.  Our Chinese hosts were incredibly friendly, hospitable and organized. They treated us like family and made sure we were educated, entertained, well fed and well cared for throughout the week. We send a grateful thank you to Dr Liwen Liu and her colleagues for making this week memorable and successful. We look forward to additional visits and collaborations with our Chinese hosts in the future.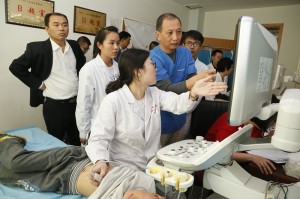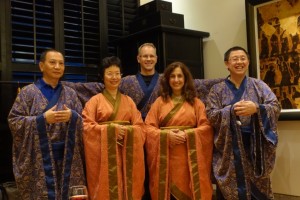 Photos Above (top to bottom): Keith Collins and Vera Rigolin pose with a young patient and and Chinese team members at the Yan'an People's Hospital. The  little girl with complex congenital heart disease underwent cardiac surgery a few days later in Xi'an.
Dr Liwen Liu and her hypertrophic cardiomyopathy research team.
Dr. Cynthia Taub (right) consults with members of the Chinese team while ASE sonographer Erica Chung scans a patient.
Jian Zhang consults with members of the Chinese team while an anxious father looks on.
Jian Zhang, Erica Chung, Dr. Vera Rigolin, Keith Collins and Dr. Dali Fan in traditional dress from the Qin dynasty.
---
A Visit to Xi'an: Oldest of the Four Great Ancient Capitals of China – Submitted by Dr. Jose Banchs, ASE Foundation Chair
Under the leadership of Dr. Cynthia Taub, members of our society promised to devote a week in central China. With a divided week between Yan'an and Xi'an, we experienced and learned about cardiac care delivery in the region. What was designed as an education-oriented project easily developed into much more, as you can see from the descriptions of my ASE colleagues.
Our colleagues in China saw through lectures and live demonstrations the imaging applications we consider standard in our practice, and they in turn shared their unique style and amazing efficiencies. We've all heard the phrase "necessity is the mother of invention," and of course good inventions create transformative value for our lives. I think we all agree that this concept applies in a very special way to taking pictures of a person's beating heart with sound waves and being able to store it frozen in time. Well, our Chinese counterparts definitely have different needs and what they have accomplished to transform their needs into a quality and valuable service is admirable.
The last part of the week we were in Xi'an, which is a city known as the starting point of the Silk Road and home to the Terracotta Army, but we left it known to be the starting point of a road of our society in partnership and friendship, and a literal echo army.
Photos below:  Every stop created a new opportunity for a group shot with our new friends.
Top to bottom, left to right:  Early arrivals to Yan'an;  touring the hospital; a favorite smile; group photo in Yan'an; our team leaders, Dr. Liwen Liu and Dr. Cynthia Taub, address the attendees in Yan'an; group photo in Ansai; Dr. Banchs gives presentation; presenters gather before the Yan'an presentation; posing with hospital staff.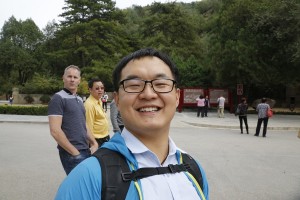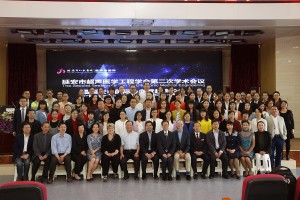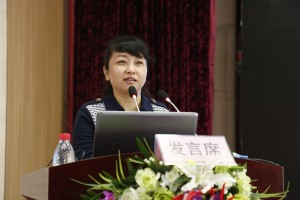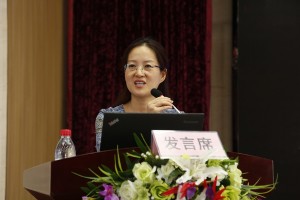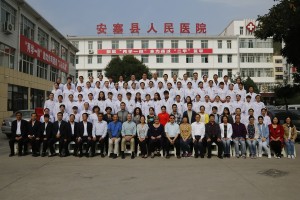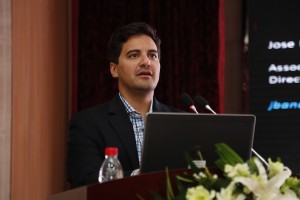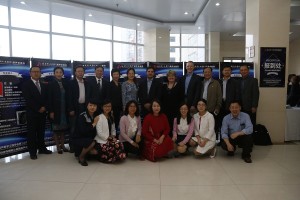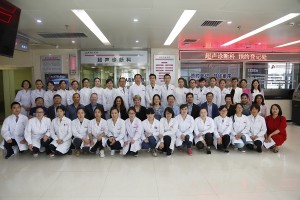 ---
PLEASE DO NOT STAMPEDE!!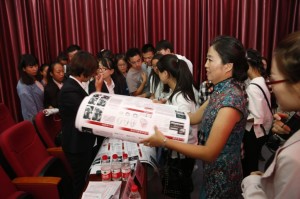 Those were the instructions to the Xi'an meeting attendees when the announcement was made that free ASE guideline posters would be distributed at the registration desk during the lunch break.  Translated versions of the Chamber Quantification and LV Diastolic Function posters were distributed, as well as USB drives loaded with  ASE guideline documents in English and Chinese.  Sonographers Erica Chung and Jian Zhang provided the translation for the diastology poster with translation review by Cynthia Taub, and Siemens Healthineers in China organized and funded the printing for 500 each of the Chamber Quantification and LV Diastolic Function posters.  Translations for ASE guideline documents (now over 30 translations!) by Chinese physicians and sonographers have been organized by Dr. T.G. Zhu. Photos right and below left:  Posters were a popular giveaway at the educational events in Xi'an and Yan'an.   Below right:  Erica Chung, Cynthia Taub, and Jian Zhang pose with "their" poster.  It was fun to see the Chinese posters on the walls of the echo labs.
---
The Volunteer Experience: Expectations Surpassed  –  Submitted by Keith Collins
There have been times in my life when reality has surpassed expectations, but never so much as this ASE Foundation event in Xi'an, loca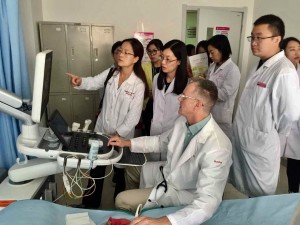 ted in Shaanxi province in northwest China. I found a world of contrasts and surprises. I thought Xi'an was a small rural town with some historical significance and quickly saw a burgeoning city of 7 million people, moving from its historical seat of the ancient dynasties (Qing, Ming and Tang) to a car- & crane-filled hustle, expanding on oil-rich ground. The "remote" city of Yan'an (three hours by high-speed rail) was more than the center of Mao Zedong's unification of communism and nationals to grow China in the midst of destitute conditions. It seems to be the proud heritage of the Chinese spirit and cultural development. And aside from the history lesson, after imaging <8 patients a day in an echo lab doing 15,000 echo studies a year in the US, in Xi'an we experienced an ultrasound department of 180+ staff, with physician sonographers imaging 2,500 patients a day (A DAY!), producing full reports before the patients leave.
The medical staff, led by Drs. Liu, Chen and Zhang, pre-screened 5,400 patients by auscultation and clinical examinations prior to our visit. Of the dozens of patients we scanned in Xi'an, Yan'an, and Ansai, fifteen received surgical corrections in the three days immediately after we imaged them. More complex surgeries were already scheduled for Xi'an. Beyond their high volume efficiency and throughput, we were all touched by the compassion the physicians showed each patient's entire family and the earnest desire for help in the eyes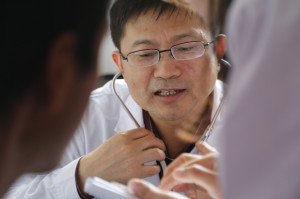 of the patient (or parents).
Memories of the young children will stay with me forever … such as the young girl who sweetly cooed until the gel touched her small chest. My baby talk helped to calm her, but I ultimately imaged her as her mother held her and nursed. Another child had complex congenital defects, including an AV canal defect, double chamber right ventricle, restrictive muscular VSD, associated with RV dilatation and dysfunction.  At first blush, I saw big beautiful black eyes curious of me, the tall American guy, and hardly noticed her cleft palate. Afterward, I learned she had been abandoned by her birth mother and left on the street. Her adoptive parents before me were exhausting their limited means to find her help. The charitable foundation of China, Ainuo Foundation, provided funding for the initial cardiac surgery for which Dr. Chen donated his time and surgical expertise the day following the exam.   The parents would not stop saying "xie xie" (thank you) after the exam and I humbly muttered a "bu yong xie" before the next patient to scan was quickly hustled to the examining table.
If ever a service industry professional needs training in hospitality, they need to come to Xi'an province. We were treated like royalty with genuine warmth during the entire visit. Small gestures of taking our bags or making us eat first, sit first, enter first were matched by grand gestures. The hospital CEO and echo lab director were among those serving us our seemingly endless meal after imaging patients in Ansai. In Yan'an, the echo lab directors serenaded us with local folk songs after our dinner. And our Xijing Hospital hosts spoke openly throughout our visit of their desire to learn and partner with us, over endless, sumptuous meals of all the local specialties. When language would fail me, the bounty of local food united us for some of the most heartfelt and extravagant meals in my life.
As part of this first visit, we imaged patients, gave lectures, and performed hands-on demos, alongside the physicians of Xi'an, Yan'an, and Ansai. Even with their huge patient volume, they managed efficiencies to provide targeted exams and craved standardized guidelines and helpful support. They readily embraced ASE's translated posters and USB drives loaded with translated guidelines.  The posters were hung just hours after they were presented and were used to show applications in everyday scans. We have much medical knowledge to share and learn from one another. As Americans we can learn incredible tips on efficiency and teamwork from our new friends. Our gracious, warm, and generous hosts made this e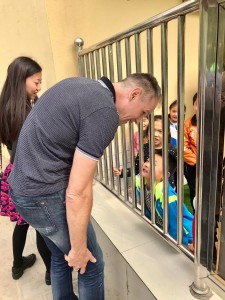 xchange of ideas and passion for quality patient care so easy. We may be speaking different languages or eating different foods for breakfast, but I am moved by our common genuine respect for our patients and commitment to quality care.
Photos (top to bottom); The Chinese and American teams collaborated on a complex study.  Dr. Cynthia Taub, ASE's team leader, is shown on the left.
Dr. Chen, the team surgeon, impressed us all with his compassion and patience when explaining the next steps to the patients and their worried families.
The tall American was a novelty at a local school.
---
It Was All About the People – Submitted by Keith, Erica, and Jian
Work just doesn't seem like work when it's fun….and fun we did have in China. We'd love to say that the tours of the ancient dynasties, the terracotta warriors, Mao Zedong's seminal meeting place for Chinese unification, the dumplings, the noodles, the bao, the hot pot….we'd like to say those were the main sources of fun, but that would be wrong.  It was the people. Our hosts at Xijing Hospital, a large military center for Xi'an province, were the most gracious, warm, and generous professionals with whom we could hope to partner.  The collaboration of ideas and dissemination of guidelines we aimed for simply happened naturally, if only because our hosts wanted to learn from us and also share with us their projects and systems. Never were we without a smiling guide or physician to lead us through their ever-bustling hospital, markets, or streets. Dr. Banchs tried his darnedest to steal away two impressive assistants who never seemed to stop tending to us, the lectures, the transportation, or the meals (oh, the MEALS!). If Xinxing and Xuhong end up in Texas, we know whose handiwork to credit! We doubt that will happen. Our small group, with Dr Taub at the helm, had fun working together, but the Xijing Hospital staff was a close knit family that really worked together. Dr Liu and her colleagues never saw a job that was beneath them, and made sure we always felt welcome. We can learn quite a bit from that teamwork and camaraderie.  We had a robust exchange of echo guidelines, standards and protocols, but this is just the start of continued healthy and productive collaborations with our new Chinese friends.
Photos below:
Dr. Taub caring for a patient.
Dr. Fan being himself.
Dr. Taub enjoys a biang biang noodle, a specialty of the Shaanxi province.
A group dinner on the final night together.
Enjoying a Chinese history lesson in Yan'an.
Slurping noodles is encouraged!
Dr. Banchs photobombs Xinxing eating noodles.  We all enjoyed watching Xinxing eat!
The inscription in ASE's Comprehensive Echocardiography textbook presented to Xixing Hospital.
Friends of ASE traveled to Xi'an for the conference.  Shown here is Dr. T.G. Zhu of Beijing.  Dr. Zhu has organized many translations of ASE guidelines documents and is on the editorial board of ASE's new CASE journal.
Also joining us as speakers at the Xi'an conference were Drs. Hao Wang and Lixue Yin, shown here with Dr. Liwen Liu (center).  All are members of ASE.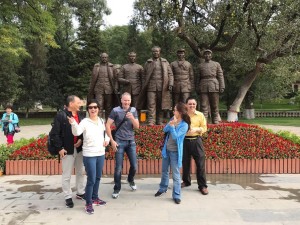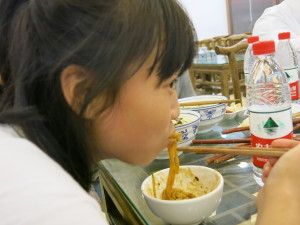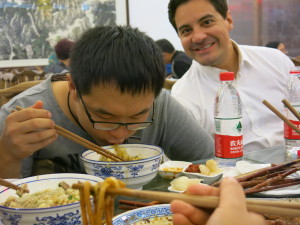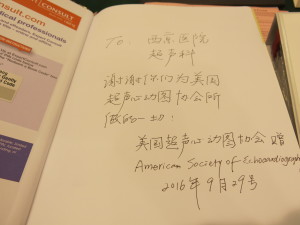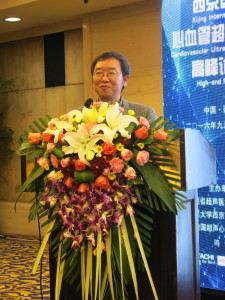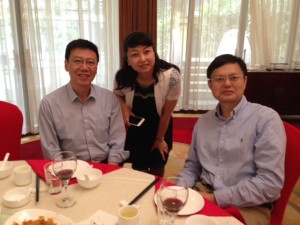 ---
 Just For Fun
Our volunteers work hard, but fun was involved as well!  Most of them came together at the beginning of the week as strangers, but left as friends.  Here are some of those memories.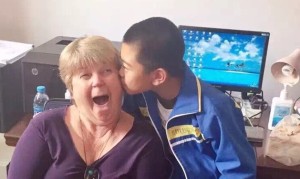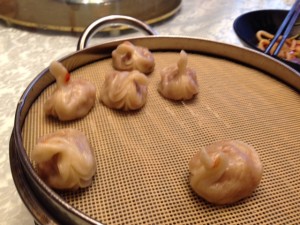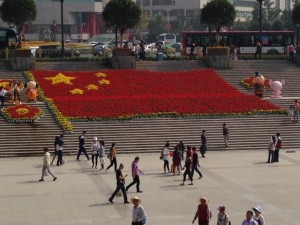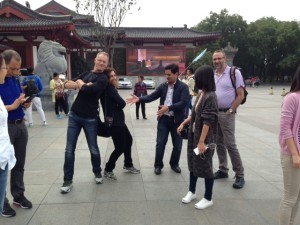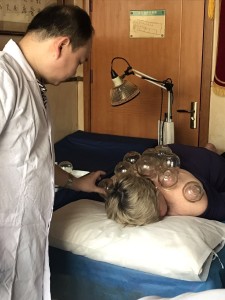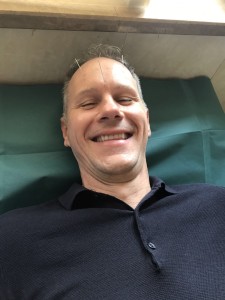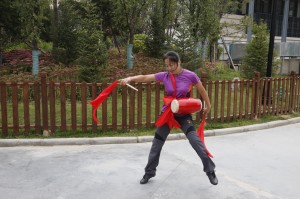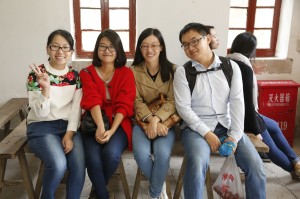 Rhonda gets a surprise kiss from a young patient.
Duck dumplings in the shape of (what else?) ducks!  We never knew food could be so good.
All the tourist sites were beautifully decorated for the Chinese national holiday.  This flag is made of flowers!
Our group always took fun along with them.
Our last day in China was just for fun, but it was also the start of a week-long national holiday!  To avoid the crowds, we spent the day visiting the Eastern Medicine Department of Xixing Hospital.  Here, Rhonda tries cupping.  And Keith got acupuncture IN HIS HEAD.
Erica hamming it up.
Life imitates art.
The Director of the Ultrasound Dept. in Yan'an demonstrates the waist-drum.
Some of our cute hosts from the Ultrasound Department in Xi'an. They are why we had so much fun!