The ASE Foundation's 2018 global health outreach events are supported by donor contributions to the Annual Appeal.
---
MEXICO 2018: PROJECT CHAGAS
Mérida • Yucatán
August 2018

ASE Foundation volunteers participating in Mexico 2018: Project Chagas returned home in late August following the completion of the global health initiative. Held in the beautiful city of Mérida, Yucatán, the event focused on pre-identified patients diagnosed with Chagas disease, to investigate the prevalence of Chagas cardiomyopathy, detect those individuals previously undiagnosed, and connect them with local cardiologists that would provide proper cardiac care within the regional public system.
Chagas Disease (CD) is caused by a parasite, Trypanosoma cruzi, that is transmitted through the "kissing bug". Over the last 10 years, the Mexican Government took significant initiatives to extinguish the bug and developed campaigns to detect the blood infection of this disease mostly prevalent in rural areas. This situation created a unique opportunity for the ASE Foundation and its partners to build on the previous government initiatives and screen for Chagas heart disease, which occurs in roughly 30% of those infected.
---
You can learn more about imaging patients with Chagas disease here (also available in Spanish, Portuguese and Chinese). 
---
Team Leaders:
Federico M. Asch, MD, FASE – Washington Hospital Center, Washington, DC, USA
Pedro Gutierrez-Fajardo, MD, PhD, FASE – Hospitales Mac Bernardette, Guadalajara, Jalisco, Mexico
Hilda Peralta-Rosado, MD – Hospital General Agustin O'Horan, Mérida, Yucatán, Mexico
Medical Team:
Verónica Bravo-Rendón, MD – Instituto de Corazón de Querétaro, City of Querétaro, State of Querétaro; Martin Ibarrola, MD, FASE – Centro Cardiovascular BV, Buenos Aires, Argentina; Eric Kruse, BS, RDCS, RVT, FASE – University of Chicago, Chicago, Illinois; Roberto M. Lang, MD, FASE – University of Chicago, Chicago, Illinois; Tracy Lawrence, MD, FASE – USC Medical Center, Los Angeles, CA; Rachel Marcus, MD, FASE – Washington Hospital Center, Washington, DC; Carolina Melendez, RDCS, RCS – Medical City Dallas, McKinney, Texas; Adriana Ortega-Gutierrez, MD – Unidad Médica de Alta Especialidad, IMSS Mérida, Yucatán; Emma Rosas-Munive, MD – Hospital General de México, Ciudad de México, México; Madeline Schiminger, BS, RDCS (AE, PE) – Johns Hopkins Hospital, Baltimore, Maryland; Allison Sterk, BS, RDCS (AE PE FE), FASE – Helen DeVos Children's Hospital, Grand Rapids, Michigan; Benigno Valderrábano-Salas, MD – Hospital Regional de Alta Especialidad Bicentenario de la Independencia ISSSTE, Tultitlán, México; Staff liaison: Rhonda Price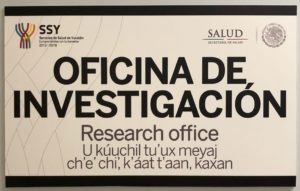 Institutional Partner:
♥ Hospital General Agustin O´Horan, Mérida, Yucatán
Industry Partner:
♥ Philips Mexico Commercial S.A. de C.V.
Society Partner:
♥ Asociación Nacional Cardiólogos de México (ANCAM)
Government Partners:
♥ Servicios de Salud de Yucatán (SSY)
♥ El Centro Nacional de Programas Preventivos y Control de Enfermedades (CENAPRECE)
Photo above:  Hospital signs were in Spanish, English, and Mayan languages.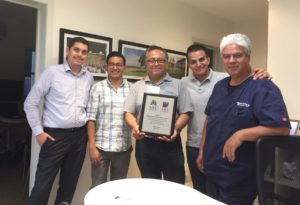 All photos on this page by the volunteer team members.
Photo right:  Members of the Philips team were with us from the beginning of the planning process and throughout the on-site activities.  Philips team members in the photo (left to right):  Luis Alonso Huertas Gomez, Jonatan Sanchez Martinez, Victor Hugo Jimenez Silva, Angel Nicolas Belmont Angeles, Miguel Angel Corona Franco.
---
"It was a most amazing collaboration from local to international volunteers, from societies to industry and health services, and everybody contributed with his/her best."  – Dr. Pedro Gutiérrez-Fajardo, Team Leader
---
Media Reports
Jornada de ecocardiografia para pacientes con enfermedad de Chagas
Youtube:  Ecocardiografia Para Pacientes Con Mal De Chagas, published August 23, 2018
ASEF en colaboracion con Philips realizan estudios cardiacos a pacientes con la enfermedad de Chagas, MNI Noticias, 23 August 2018
---
The Team at Work
Photos, clockwise from top left:  The five medical teams worked in close proximity and quickly found their rhythm.  Philips loaned and maintained five machines for the three-day event. Dr. Lang worked daily with sonographer Allison Sterk.  The three leaders started each morning by explaining to the patients in the hospital auditorium what to expect. The team represented ASEF, ANCAM, Philips, CENAPRECE, and Hospital O'Horan. Dr. Asch being interviewed by the media. 
       
Below:  The team in room 1 represented Chicago, Los Angeles, and Mexico City.  The positioning of the examination rooms allowed for shared opinions by the team.  Dr. Lang, shown here with Dra. Peralta, presented plaques of appreciation to the leaders on behalf of ASEF.
---
"Collaboration was at the core of this altruistic work: Yucatan and National Health services provided the opportunity to identify patiens with Chagas positive serology, contact them in their rural communities and bring them to the Hospital in Merida; Hospital O' Horan provided the facilities, organization and local personnel; Philips Mexico provided top of the line echo and ECG technologies and technical support; doctors and sonographer volunteers from the US, Mexico and Argentina provided the ultrasound and cardiology expertise; ASEF and ANCAM  provided funding and overall organization; and the Mexican Federal Government – through their Center for Disease preventation, CENAPRECE – provided the commitment to expand in the near future this effort to other endemic areas in Mexico." – Dr. Federico M. Asch, Team Leader
---

Yucatán Culture, Food and History
It wasn't all work, of course. After full days in the hospital, the team spent evenings experiencing the culture and history of the Yucatán region – local music and dance, the Mayan museum, and food!
Photo right:  Hands at work.
Photos below (clockwise starting top left):  Making tortillas. Dancers at a local festival – we had front row seats! This local taxi could really go places and carry 4 passengers. Local musicians at the park. At the Mayan World Museum in Mérida. A selection of fillings for our fresh tortillas.
      
Photos below:  The sonographers bond during the first meal. Hand-stitched collars adorned the traditional garments of the women. A beautiful Yucatán sunset.
---
"This was my DREAM TEAM." – Dra. Hilda Peralta, Team Leader
---