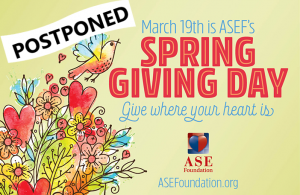 As the global effect of COVID-19 continues to evolve, ASE and the ASE Foundation are focused on the health and safety of our members and employees. With this in mind, we have decided to postpone the Spring Giving Day fundraiser that was scheduled to open March 18 at 4PM.
This yearly fundraiser has kicked off our annual appeal for the past four years and historically has been planned around the first day of spring. This is unfamiliar territory for all of us. We will continue to monitor this developing situation and look to reschedule for some time late this spring or summer.
As ASE President Madhav Swaminathan, MD, FASE said, it is important to remember that we are all in this together and we will all get through this together as a community that cares for each other!