We recognize the generosity of an anonymous donor who
 contributed in January in memory of Dr. Ravi Garg.
 Thank you to the groups who participated in ASEF's 2nd Annual Local Society & Hospital Competition and raised over $15,000 for the 2013 Annual Appeal!
ASEF granted support from the Robert Wood Johnson Foundation (RWJF)
As part of Choosing Wisely™, an initiative to help physicians engage patients in conversations aimed at reducing unnecessary tests and procedures. Learn more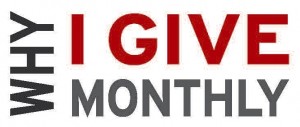 "ASE is only as strong as the community that surrounds and supports it.  My monthly ASEF donation allows me to continuously "give back" and support our profession.  In addition, my personal passion for sonographer professional development is support through ASEF funding for sonographer travel and research grants."   Merri Bremer, RN, RDCS, Mayo Clinic.
Contact Us
For questions regarding the 2014 Annual Appeal donations and the ASE Foundation, please contact Kelly Sweet, Foundation Coordinator, by email or by phone at (919) 297-7169.