IMAGES FROM THE HEART: Touching Lives, Bridging Cultures
A Curated Photo Exhibit by the
American Society of Echocardiography Foundation
Give Us Your Best Shot!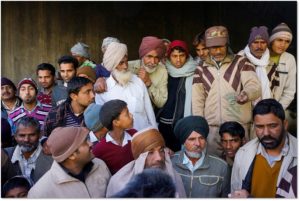 In recent years, we've been inspired by photographs taken by ASE members while traveling the world to participate in various humanitarian events. As echocardiographers, you excel at taking images of the heart. Now we'd like to give you the opportunity to share the images you've taken from the heart. Perhaps you took a special photo of a child you interacted with in Kenya, the chaos of traffic in Hanoi, a marketplace in China, or a new group of friends in Havana.  We invite you to share these heartfelt memories (and tell us what they mean to you) for our 3rd annual photography exhibit, to be held during ASE 2018 in Nashville, June 22-26, 2018.
Photo right:  "Questions, Discussions" by Barry Canaday, RN, MS, RDCS, RCS, FASE. Taken with a Sony Alpha Nex-5 in January 2012 in Sirsa, India during ASE Global: Focus on India, ASE's first global health initiative.
Theme: 
Photographs taken while the photographer was participating in humanitarian or training events that were medical in nature. The photographs themselves need not be medically themed, but may capture faces of people met along the way, landscapes, cultural observations, etc.  If you do submit a photograph of a patient examination, we ask that you be respectful in protecting the privacy and dignity of the patient.
Entry Rules: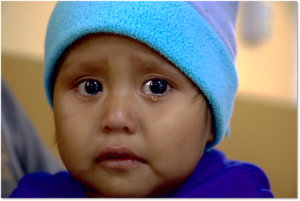 The ASEF photo exhibit will be open to entries by all members of the American Society of Echocardiography, regardless of whether the medical humanitarian event was sponsored by ASEF or another non-profit/NGO organization. Non-members may also submit entries if they participated in an ASEF-sponsored humanitarian event.
All images must have been photographed no earlier than January 2012 to be eligible.
Photo right: "Tears" by Federico M. Asch, MD, FASE.  Taken with a Canon 70D during 2015 ASEF global health initiative with indigenous communities in northern Argentina/Bolivia. 
Accepting Entries March 1 – April 15, 2018
How to Submit Photographs
Photo entries will be accepted electronically March 1 – April 15, 2018.  Please follow these instructions:
All entries should be emailed to Rhonda Price at rprice@asecho.org no later than April 15, 2018.
Starting in 2018, we will accept no more than five entries per person.
Please attach one photograph per email, along with the accompanying descriptive information in the body of the email. This will minimize confusion about which description goes with which photograph.  Photographs sent without the descriptive information will be disqualified.
For entry purposes, photographs should be a minimum of  72dpi, and should be in a jpg or tiff format.  If your entry is accepted in the curated photo display (limited to 26 photographs and selected by an external curator), you will be asked to mail an 11×14 copy of the photograph (300 dpi recommended) to the ASE Foundation by a designated date.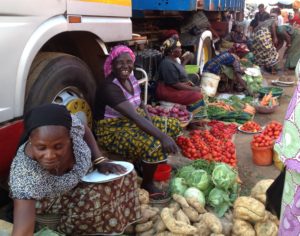 All qualified entries will be included in the electronic display, regardless of whether selected to be in the curated display. Entries submitted for the 2017 exhibit that were not included in the curated display may be re-submitted by the photographer for 2018.
Basic photo processing such as cropping, exposure, contrast, color balance and adjustment, saturation, sharpening and dust spotting is allowed.  Altering photos by adding or removing objects, backgrounds or skies, or combining two or more photos with different elements, adding colors or textures not in the original capture, and other major alterations that transform the image into something significantly different than the original capture are not allowed
Please name your images in the following way: your first initial/last name/underline/number.  For example, if John Smith submits four entries, his photographs will be named jsmith_1.jpg, jsmith_2.jpg, etc.  He would send each photo in a separate email.
Please also include the following information with each photograph (include in the body of the email or as an attached Word doc):
Title of the Photograph (not what you named the file, but a descriptive title you've selected).
Full name of the photographer and your professional credentials if you wish to include those
Type of Camera/Phone used
Category:  Our categories for this exhibit are (1) People/Faces, (2) Places/Nature/Animals, or (3) Culture
Location/Name/Dates of the Event
Event Sponsor (ASEF or other organization) and a brief description of that organization
Background on the subject/ what it means to you (100 words or less).
An example of how this information will be used can be found at the bottom of this page.  This descriptive information is important because it helps the photograph to tell a story.
When your entries have been received and qualified, you'll be sent a confirming email that includes a link for a release form allowing the ASE Foundation to display the image. There will not be a fee for entries, but everyone submitting an entry is encouraged to donate to the ASE Foundation to ensure continued ASEF support of humanitarian/educational events worldwide.
We encourage you to enter soon and often.  GIVE US YOUR BEST SHOT(S)!
Photo above:  "The Market" by Kirk Spencer, MD, FASE.  Taken with an iPhone 6 in 2014 during a hands-on focused cardiac ultrasound training event in Jos, Nigeria.
---
All photographs shown on this page were included in the 2017 curated photo exhibit.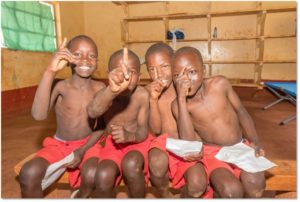 Title: Boys Will Be Boys…
Photographer: C. Becket Mahnke, MD
Camera: Nikon D750, 24-70 mm lens with SB600 speed light
Category:  People
Event: ASEF event in Eldoret, Kenya
Dates of event: Sept 12-16, 2016
 Background:  These young boys were VERY excited to be screened for rheumatic heart disease.