The ASE Foundation is ecstatic to share that we have already surpassed our $30,000 fundraising goal! Thank you to the 109 donors who have contributed a total of $32,457.94 as of this afternoon.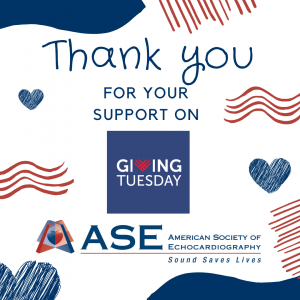 We may have reached our goal, but we are not done! The Foundation is still accepting donations towards its GivingTuesday fundraiser until December 3, so if you have not already done so—it is not too late to donate! Every donation brings us closer to our 2022 Annual Appeal goal of $225,000.
An investment in the ASE Foundation is a testament of support in the future of cardiovascular ultrasound. Wherever your heart lies in our field, ASEF is making a difference. Show us #YourPriority with a donation to the initiative that most aligns with your passion. If you would like to make a donation to support a 2023 Global Outreach Travel Grant in memory of Greg Tatum, MD, FASE, please indicate that your donation is in his memory on the donation form.
100% of your donation will go toward charitable projects in 2023. Thank you for showing us that supporting the future of cardiovascular ultrasound is #YourPriority. Together we will continue to make a world of difference!