In honor of Dr. Pamela S. Douglas, ASE's thirteenth President (2001-2003), who has a significant association with ASE, along with a visionary level of support for the ASE Foundation, and is a true pioneer in the field of clinical research, we are proud to announce a new scholarship award: The Pamela S. Douglas, MD, FASE Research Scholar Award.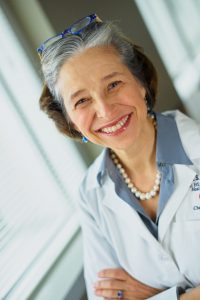 During Dr. Douglas' 30+ years of experience, she has led several landmark multicenter government-sponsored studies and pivotal industry clinical trials along with outcomes research studies. She is renowned for her scientific and policy work in improving the quality and appropriateness of imaging in clinical care, clinical trials and registries and through development and dissemination of national standards for imaging utilization, informatics and analysis. She has been among the forerunners in a number of areas including heart disease in women, sports cardiology, and cardio-oncology. Her legacy as a leader in the field of clinical research will be sustained by this award and by the Scholars who will continue to build research understandings in her honor.
Application for 2021 funding is now closed. 
About the Award
Funding opportunity description and purpose: To support the future of echocardiographic research by granting one-year (12 months) scholarships to support clinical or translational scholars in advanced cardiovascular ultrasound research. With the allocation of this support, young scholars will have protected time and the mentorship to pursue impactful research in cardiovascular ultrasound.
Key dates: Applicants are encouraged to apply early to allow sufficient time to make any corrections to errors or omissions found in the application.
Application Opens: December 1, 2020
Application Due Date: February 1, 2021 by 5:00 PM Eastern Time
Notification of Results: March 1, 2021
Funding Available: As of July 1, 2021. Funding must be activated by December 31, 2021.
Administrative and funding organization: ASE Foundation
Funds available and anticipated number of scholarships: The program will provide one grant of $75,000 USD.
Grant project period: The funding period will be for one (1) year in duration (12 months).
Eligibility & Expectations
Eligibility requirements:
Sponsoring Institution
The sponsoring institution must have a relevant, cardiovascular-related ACGME accredited training program.
Applicants
The successful candidate will be a promising echo researcher, a person who has elected to complete further time in academic research and is committed to a career as an echocardiographic independent investigator.
Physician applicants must be in an advanced training or research program or be within the first three (3) years of appointment to their first faculty position at the time of award activation.
PhD applicants must be in a post-doctoral program or be within the first three (3) years of appointment to their first faculty position at the time of award activation.
This scholarship is only open to active ASE members.
Recipient expectations:
Once awarded, recipients must be actively engaged in their research and remain so during their full award (12 months) period. Researchers must be able to devote at least 75% of their time to this funded research project.
The grant in its entirety must be used to support the salary of the recipient. However, other scholarships, fellowships, awards or stipends supporting their research project will not affect eligibility to receive the full amount of this award.
A maximum of 10% of the award can be used for institutional overhead or fringe benefits.
Recipients may receive a maximum of one (1) Pamela S. Douglas, MD, FASE Research Scholar Award.
Recipients must provide a report to the ASE Foundation of their research progress at the end of their term and are expected to submit an abstract to the ASE Scientific Sessions.
Recipients must submit a follow-up report five (5) years after completion.
Recipients must recognize their position as an ASE Research Scholar and include the ASE Foundation as the funding source in all their research presentations and publications on this research topic and include this ASE Foundation research grant among the honors on their CV.
Application Instructions
Electronic submission: Applicants will submit their application electronically per the instructions below.
Application Requirements:
Complete the online application form.
Prepare the following application elements (Qualifications, Research Proposal, and Letters of Support) and email them to Andrea Van Hoever (avanhoever@asecho.org) by 5:00 PM Eastern Time on Monday, February 1, 2021.
Qualifications
Note that applicants must have an active 2021 ASE membership to be considered. Your membership status will be verified upon receipt of your application. In addition, applicants must submit the following materials:
Your current and complete CV
A one (1) page personal statement which includes:

An overview of your current and future research goals, including how the current proposal will advance them;
Why you are an excellent candidate for this award (may include experience in echocardiographic research, specific areas of research interest);
All intended activities during the research year including how your time will be protected (if relevant);
How the mentor and institution in which you propose to work will support the proposed investigations.

Your research mentor's current CV or NIH biosketch
Research Proposal
Research proposals should include the following:
Title of the proposed project.
Summary of the proposal, not to exceed 500 words.
Listing of all co-investigators with degrees, academic titles and affiliations. Include a description of each investigator's contribution to the proposal.
Research Strategy (limit 6 pages). Proposals should include the following components (with suggested page lengths). The full description of the project, including any figures, may not exceed the 6-page limit.

Specific Aims (1/2 page)
Background and Description of the Clinical Problem (1 page)
Scientific Methods (3-4 pages)
Significance (1/2 page)

References cited. References will not count against the 6-page limit for the research strategy. References should be numerical in order of their appearance in text. JASE reference style is recommended.
Budget. Budgets should be comprehensive and utilize the budget template provided. Indirect costs are optional and may not exceed 10% of total costs.
Other funding applicable to the proposed project for the applicant and mentor, both pending and active:

Agency, Award ID number
Project title and name of principal investigator
Dates of funding
Award amount
Applicant's role in the project funded by this other support
Amount directly available to the applicant
Relationship of the applicant's ASE Foundation proposal to this other support

Research with human subjects and animals: For investigations that include vertebrate animals, an NIH-style Vertebrate Animals Section is required, and Institutional Animal Care and Use Committee (IACUC) approval will be necessary before release of funds. For clinical studies, proof of Institutional Review Board (IRB) approval will be necessary before release of funds.
Letters of Support
Applicants are required to provide two (2) letters of support: one (1) from their department chair/head, and one (1) from their research mentor. Up to two (2) additional letters beyond those required are welcome.
Limit each letter to no more than two (2) pages.
All letters must be on institutional letterhead and should be signed by the writer.
Letters may be addressed to the ASE Foundation Board of Directors.
Required letter from Department Chair/Head:

Letter of support should confirm that if funding is awarded, the applicant will be given protected time and appropriately excused from clinical and administrative duties as needed for the duration of their award period. A projection of at least 75% of the applicant's time over a consecutive 12-month period is expected to be devoted to this funded research project.
Letter of support should confirm whether or not this scholarship will be the applicant's sole source of salary support during the award period.
Letter of support should include personal assessment of the candidate's unique qualifications that qualify them as an exceptional candidate for this scholarship.

Required letter from Research Mentor:

Mentor must hold a valid faculty appointment at the institution where the applicant's research will be conducted, and have a track record of high-quality clinical investigation.
Letter of support should comment on the originality and impact of the applicant's research, as well as their potential for a future career in clinical or translational research.
Letter of support should include personal assessment of the candidate's unique qualifications that qualify them as an exceptional candidate for this scholarship.
Format for application elements (font, page formatting, and figures): Conventional font types (Arial, Times New Roman, Helvetica, etc.) and a font size no smaller than 11-point should be used. Page margins should be no less than 0.5 inch. All files should be saved as .pdf files.
Contact Information
For application inquiries or assistance, please contact:
Andrea M. Van Hoever, MSGH
Deputy Director
American Society of Echocardiography / ASE Foundation
Email: avanhoever@asecho.org
Telephone: (919) 297-7163
Support the Endowment Fund
ASE has contributed an initial gift of $35,000 to establish the Pamela S. Douglas, MD, FASE Research Scholar Endowment Fund. Our goal is to raise a minimum of $375,000 by December 31, 2021. You may contribute to this endowment by making a donation here. Your contribution honors her legacy and supports giving research scholars the protected time and mentorship to pursue impactful research in cardiovascular ultrasound.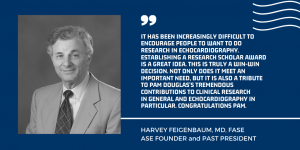 The ASE Foundation is a 501(c)(3) nonprofit corporation. Our tax I.D. number is 43-1972597. Financial information about this organization and a copy of its license are available from the State Solicitation Licensing Branch at 919-814-5400. The license is not an endorsement by the State.