In honor of Dr. Pamela S. Douglas, ASE's thirteenth President (2001-2003), who has a significant association with ASE, along with a visionary level of support for ASE Foundation, and is a true pioneer in the field of clinical research, we are proud to announce a new scholarship award:
The Pamela S. Douglas, MD, FASE
Research Scholar
**Applications will open December 1, 2020**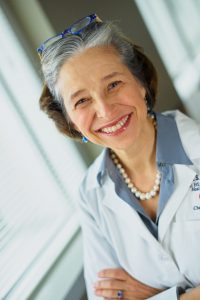 During Dr. Douglas' 30+ years of experience she has led several landmark multicenter government sponsored studies and pivotal industry clinical trials along with outcomes research studies. She is renowned for her scientific and policy work in improving the quality and appropriateness of imaging in clinical care, clinical trials and registries and through development and dissemination of national standards for imaging utilization, informatics and analysis. She has been among the forerunners in a number of areas including heart disease in women, sports cardiology, and cardio-oncology. Her legacy as a leader in the field of clinical research will be sustained by this award and by the Scholars who will continue to build research understandings in her honor.
About the award
This award will support the future workforce of echocardiographic researchers by granting a one-year scholarship of a minimum of $75,000 to support a clinical or translational research fellow in advanced cardiovascular ultrasound imaging at an institution with an ACGME accredited residency program (or equivalent outside the U.S). One scholarship will be awarded every alternate year.
Funding 
ASE has contributed an initial gift of $35,000 to establish the Pamela S. Douglas, MD, FASE Research Scholar Endowment Fund. Our goal is to raise a minimum of $375,000 by December 31, 2021. You may contribute to this endowment by making a donation here. Your contribution honors her legacy and supports giving research fellows the protected time and mentorship to pursue scholarly echocardiographic inquiries.
Eligibility
Applications will open in September 2020 and the winner will be announced at the 2021 Scientific Sessions in  Boston, MA. A protected year of research work is expected to commence in July 2021. More information about the application process will be made available in the near future. To be eligible, applicants must:
Be a physician or PhD in an advanced training program (e.g., fellowship) or should have completed primary specialty residency and be within the first three years of appointment to their first faculty position at the time of award activation.
Have written letters of support from their department chair/head and their research mentor.
Have an active ASE membership.
Be a promising echo researcher, a person who has elected to complete further time in academic research and is committed to a career as an echocardiographic independent investigator.
Additional stipulations will be included in the application.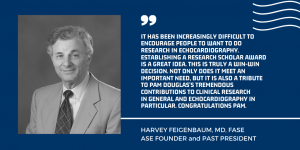 The ASE Foundation is a 501(c)3 non-profit corporation. Our tax I.D. number is 43-1972597. Financial information about this organization and a copy of its license are available from the State Solicitation Licensing Branch at 919-814-5400. The license is not an endorsement by the State.