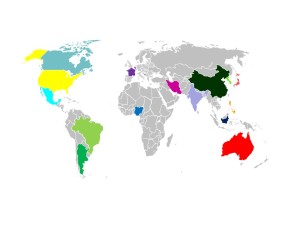 Do normal chamber quantification values vary across countries, geographical regions, and cultures? That is the question ASE plans to answer, with the help of ASE International Alliance Partners and friends. The World Alliance Societies of Echocardiography (WASE) Normal Values Study has organized study centers in 16 countries including the US, Canada, Mexico, Brazil, Argentina, Australia, Nigeria, India, China, Japan, Korea, Indonesia, Philippines, Iran, France and Belgium.
Principal Investigators for the overall study are Roberto M. Lang, MD, FASE and Federico M. Asch, MD, FASE. "We believe the information derived from this effort will be of benefit for echocardiography worldwide, not only in describing each population but in comparing them to each other," said Dr. Lang.
The WASE study, which was launched in June at ASE 2016 during a meeting with the Principal Investigators for each study center, will entail the acquisition of complete 2D and 3D echocardiograms in 100 patients in each geographical area of both genders and across a wide range of ages. All echoes will be analyzed in a core laboratory in the United States.
In addition to Drs. Lang and Asch, the current Steering Committee for this study is comprised of Jose Banchs, MD, FASE; Vera Rigolin, MD, FASE; James D. Thomas, MD, FASE; Neil J. Weissman, MD, FASE; and Susan Wiegers, MD, FASE.
The WASE Normal Values Study is being funded by the American Society of Echocardiography Foundation and its donors, and with generous in-kind support from industry sponsors Intelemage and TOMTEC IMAGING SYSTEMS GMBH