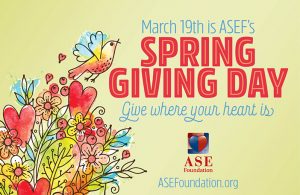 Mark your calendars! The ASE Foundation will welcome the first day of spring 2020 by holding its fifth annual Spring Giving Day on Thursday, March 19th. Plan to join us as we spring into action with a goal to raise $5,000 and kick start our 2020 annual appeal!
Donating on Spring Giving Day will be simple with our special web page that will be live starting at 4:00 PM, March 18th through 12:00 PM March 20th. Make an early pledge to get the ball rolling by contacting the Foundation at foundation@asecho.org.
Share your support on social media! Tag @ASE360 and include #SeedsOfChange, #MarchGladness. We want to know what ASEF means to you!
Can't wait until the spring? No problem! Support the 2020 Annual Appeal with a donation to #YourPriority today!
Financial information about this organization and a copy of its license are available from the State Solicitation Licensing Branch at 919-814-5400. The license is not an endorsement by the State.