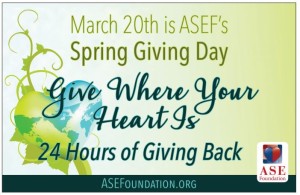 Mark your calendars! The ASE Foundation will welcome the first day of spring 2019 by holding its fourth annual Spring Giving Day on Wednesday, March 20th. Plan to join us once again as we spring into action with a goal to raise $5,000 in 24 hours. Thanks to an early pledge from David Rubenson, MD, FASE, we are already $1,000 of the way there! Join Dr. Rubenson and make a pledge today.
Gifts received on Spring Giving Day will foster the future of echocardiography by supporting scholarships and travel grants to young professionals in the field. Each and every gift you give to the ASE Foundation makes a difference in the projects you support and the people you help. 100% of all giving is allocated to charitable projects.
Can't wait until the spring? No problem! Support the 2019 Annual Appeal with a donation to #YourPriority today! Visit ASEFoundation.org/Donate
Financial information about this organization and a copy of its license are available from the State Solicitation Licensing Branch at 919-814-5400. The license is not an endorsement by the State.