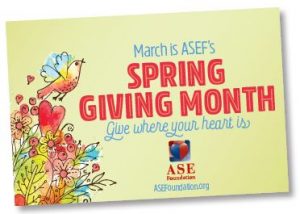 In celebration of National Women's History Month, the ASE Foundation invites you to donate in honor of the women in your life. Think of your mentors, supervisors, family members, any women who have had an impact in you. We will feature the women who have been honored right here on our website. Send us a picture and we will post it along with your tribute message. Allow us to shine a spotlight the women who have inspired you!
Join us as we spring into action with a goal to raise $5,000 and kick start our 2021 annual appeal!
Financial information about this organization and a copy of its license are available from the State Solicitation Licensing Branch at 919-814-5400. The license is not an endorsement by the State.