A Photo Exhibit by the
American Society of Echocardiography Foundation
Give Us Your Best Shot!
As echocardiographers, you excel at taking images of the heart. Now we'd like to give you the opportunity to share the images you've taken from the heart.
Theme: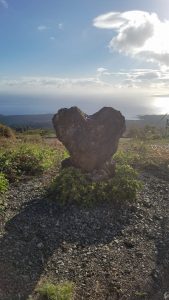 The theme of this year's photo exhibit is Hearts All Around Us and will showcase photographs of heart-shaped things you have come across in nature, architecture, everyday life, etc. Since you work with the heart, you probably find yourself seeing hearts all around. Perhaps it's a heart-shaped cloud, or the arch of a building, or the bend of a tree branch you saw on hike. We invite you to share these images with us for our annual exhibit which will be on display during ASE 2022 in Seattle, WA, June 10-13, 2022.
The exhibit is open to all members of the American Society of Echocardiography and any volunteers from our global health outreach events.
Photo on the right taken by Angie Porter
Heart Rock on the Road to Hana in Maui, Hawaii
Entries Accepted March 1 – April 15, 2022
How to Submit Photographs:
All entries should be emailed to Mary Carmody at MCarmody@asecho.org no later than April 15, 2022.
Attach one photograph per email, along with the accompanying descriptive information in the body of the email – see below for specifics. Photographs sent without the descriptive information will be disqualified.
Name your images as follows: your first initial/last name/underline/number. (Maximum of 5 entries per person)
For entry purposes, photographs should be a minimum of 72dpi, and should be in a jpg or tiff format.
Descriptive information to include with each photograph (in the body of the email or as an attached Word doc):
Title of the Photograph (not what you named the file, but a descriptive title you've selected).
Full name of the photographer and your professional credentials if you wish to include those
Type of Camera/Phone used
Location of image taken, if known
Background/description of the image (100 words or less).
Basic photo processing such as cropping, exposure, contrast, color balance and adjustment, saturation, sharpening and dust spotting is allowed.  Altering photos by adding or removing objects, backgrounds or skies, or combining two or more photos with different elements, adding colors or textures not in the original capture, and other major alterations that transform the image into something significantly different than the original capture are not allowed.
When your entries have been received and qualified, you will be sent a confirming email that includes a link for a release form. All qualified entries will be included in an electronic display, regardless of whether selected to be in the curated display.
We encourage you to enter soon and often. GIVE US YOUR BEST SHOT(S)!