This year ASEF celebrated its 10th Annual Research Awards Gala with a black and white theme, and the sold out event was one to remember! Over 400 guests donned their formal attire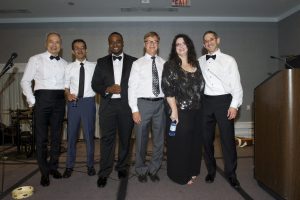 and truly looked fantastic. The beautiful Hilton Portland Downtown was the perfect setting for the evening. The night began with a cocktail hour and then the party moved on to the ballroom, where dinner was served and the awards ceremony commenced. A very special live performance featuring 2018-2019 ASE President, Jonathan Lindner, MD, FASE; Kevin Wei, MD, FASE; William Stewart, MD, FASE; Mrinal Yadava, MD and ASE staff members Andie Piddington and Dallas Lyons brought the audience to its feet!
Following the awards, the music was cranked and the dancing began! Thanks to your support, the ASE Foundation is estimated to have raised close to $100,000 during the 2019 Research Awards Gala. This support allows ASEF to provide researchers with much-needed funds to continue the growth and advancement of our field. Congratulations to this year's award recipients and thank you to all the supporters of the evening!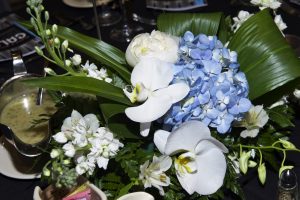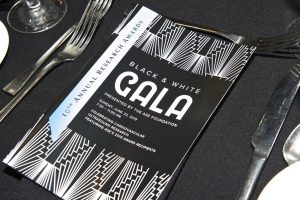 2019 Award Recipients

Physician Lifetime Achievement Award
Jae K. Oh, MD, FASE
Mayo Clinic
Rochester, MN

Sonographer Lifetime Achievement Award
Jane E. Marshall, RDCS, FASE
Massachusetts General Hospital
Boston, MA

Richard Popp Excellence in Teaching Award
Steven J. Lester, MD, FASE
Mayo Clinic
Scottsdale, AZ

Pediatric Founders Award
 Lindsey D. Allan, MD, FRCP
King's College Hospital (retired)
London, UK

Outstanding Achievement in Perioperative Echocardiography Award
Solomon Aronson, MD, MBA, FASE
Duke University Medical Center
Durham, NC

Meritorious Service Award
Mary Alice Dilday
American Society of Echocardiography
Durham, NC

A special thank you to the evening's supporters!

Advocate Level Table Supporter

National Board of Echocardiography

Benefactor Level Table Captains

Jose Banchs, MD, FASE & Edward Gill, MD, FASE, Co-Captains
Milind Desai, MD for Cleveland Clinic
Pamela Douglas, MD, FASE for Duke University Medical Center
Richard Grimm, DO, FASE for Cleveland Clinic
Rebecca Hahn, MD, FASE
Judy Hung, MD, FASE
Jonathan Lindner, MD, FASE
Michael Main, MD, FASE for Saint Luke's
Mid America Heart Institute
Jae Oh, MD, FASE
Patricia Pellikka, MD, FASE for Mayo Clinic
Department of Cardiovascular Medicine
Vera Rigolin, MD, FASE
Geoffrey Rose, MD, FASE
Marielle Scherrer-Crosbie, MD, PhD, FASE
Raymond Stainback, MD, FASE
Lissa Sugeng, MD, MPH, FASE
Madhav Swaminathan, MD, FASE for Duke Anesthesiology
Jamil Tajik, MD, FASE
Neil Weissman, MD, FASE & Federico Asch, MD, FASE for MedStar Research Institute

National Board of Echocardiography (NBE) also sponsored the photobooth and DJ