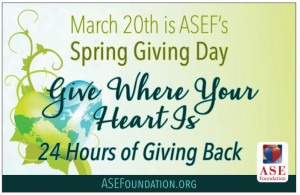 The ASE Foundation is welcoming the first day of Spring by holding its second annual Spring Giving Day on Monday, March 20! Join us as we spring into action for this year's Annual Appeal with a goal to raise $5,000 in 24 hours. Every gift – $15, $25, $50, or any amount that is right for you – brings us closer to our target.
Your gift on Spring Giving Day will foster the future of echocardiography by supporting scholarships and travel grants to young professionals in the field.
Each and every gift you give to the ASE Foundation makes a difference in the projects you support and the people you help. 100% of all giving is allocated to charitable projects.