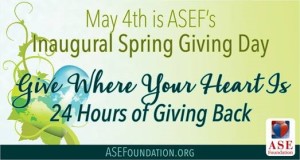 On May 4th, the ASE Foundation hosted its first-ever Spring Giving Day. Give Where Your Heart Is helped us raise over $5,000 in just 24 hours. Thank you to all of our donors and supporters who gave to this inaugural event!
As we shoot for our Annual Appeal goal, every gift – $25, $50, any amount that's right for you – brings that target closer!
Your gift helps more people in underserved areas get the care they need. The funds you provide help train the future of echocardiography by supporting scholarships and travel grants to young professionals in the field. Each and every gift you give makes a difference in the projects you support and the people you help. Thank YOU for helping the ASE Foundation make a world of difference every day.